Hi my name is Matt Hertogs and I am a software engineering lead on the Hiya Gateway Services team. I build and maintain highly available and low latency servers that coordinate traffic between our phone clients and our backend data servers. I also lead the backend engineering effort for our AT&T Call Protect app.
I began as an intern at Whitepages in the summer of 2014 on the Mobile Backend Services team. The team was incredibly welcoming and helped me hit the ground running with great mentorship and engaging work. By the end of my internship, I had written and deployed a new service into production and gave a presentation that helped spur a review of our deployment processes at Whitepages. When I finished my degree at the University of Washington, I decided to come back to Whitepages full-time because I felt I could grow quickly and learn a lot from my coworkers. Once Hiya was formed, my team became part of the new company, and I've been working there ever since!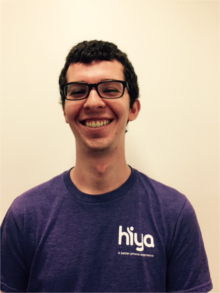 Where is your hometown?
Issaquah, Washington
Before working at Hiya, what was the most unusual or interesting job you've ever had?
I had a summer job renting kayaks and stand-up paddle boards on Lake Sammamish.
What are 3 words to describe Hiya?
Innovative, Helpful, Agile
What aspect of your role do you enjoy the most?
I really enjoy that Hiya has given me the opportunity to grow both technically and professionally. Just a few years ago, I started as an intern; now, I am an engineering lead on one of our company's biggest partnerships with AT&T. I don't think this would have been possible without the great mentoring and technical leadership from managers and senior engineers at Hiya.
What is your favorite thing to do in the wonderful city of Seattle?
I really enjoy going to pub trivia with friends – I've been attending the same trivia night for 3 years and counting!
What have been the most important innovations you have witnessed in your lifetime?
Smart phones – they have already completely changed our lives in so many ways, and I believe they will continue to impact how we communicate and share information with each other.
Any favorite line from a movie?
"I'm not superstitious…but I am a little stitious" – Michael Scott, The Office (not a movie, but still a great quote)
What four individuals, living or dead, would you like to eat dinner with the most?
Stephen Colbert, Teddy Roosevelt, Elon Musk, and Tom Hanks
Where is the best place you have traveled to and why?
Barcelona is probably my favorite city I have visited. It was an interesting mixture of beach, urban center, and old European city and Sagrada Familia is the most beautiful building I have ever seen.
What is your personal philosophy?
Hakuna Matata
Want to work with Matt and the Hiya team? Check out our current job openings
here
!