Last week, Hiya was invited to attend the Do-Not-Call Law Enforcement Summit in Indiana. The summit was hosted by the nation's Chief Spam Call prosecutor Greg Zoeller (also know as Indiana Attorney General). More than 50 other states' AG offices, federal staff of the FCC and various law enforcement bureaus attended as well. For the first time, leading industry representatives of phone spam-blocking solutions were invited to share their real world experiences.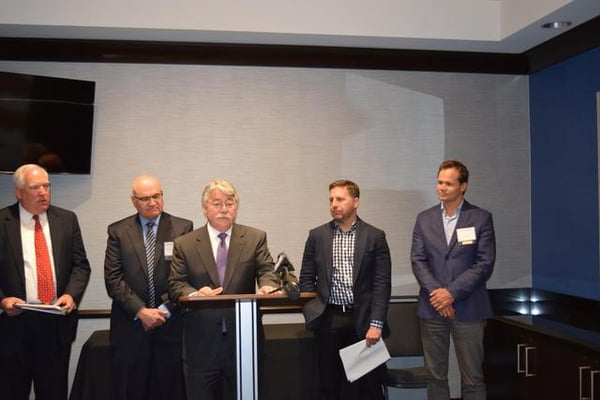 The overwhelming consensus was that we have come a long way in detecting and avoiding unwanted calls. Hiya couldn't agree more. Just in the United States, Hiya screens more than 400 MM calls and protects consumers from about 20 MM unwanted calls every month. Samsung, the world largest smartphone manufacturer, has integrated Hiya's Spam Detection in their new Samsung Galaxy S7 device and the majority of T-Mobile US users have access to spam detection as well.
However, more needs to be done to avail such phone spam protection solutions for more consumers. Despite the FCC's recent decision to officially allow carriers to block unwanted calls on behalf of their subscribers, many of the nation's top carriers are late in recognizing the urgency in addressing this issue for the sake of protecting their most valuable asset – the telephony network.
Indiana AG Greg Zoeller, Joe Bindbeutel, Chief Counsel of Missouri Consumer Protection division and Bikram Bandy, FTC Chief of the National Do Not Call Program urged both providers and carriers of phone spam protection solutions to come to terms and work together. Solutions from Hiya and other vendors are here, whether integrated into phones, carrier networks or as downloadable apps.
Addressing the state of the industry, Jonathan Mayer, the FTC's technical expert on this topic, drew an excellent comparison with the rise and defeat of email spam. In comparison with the effectiveness of email spam filtering solutions, carrier's call blocking offerings today are "over a decade behind". So it's time to act.
The pressure is in fact increasing on carriers. After the event's AG Zoeller's press conference, I talked to Timothy Marvin, who leads the nation's largest Anti-Robocall campaign at Consumer Union. Educating carriers about call blocking solutions may soon shift to the next level. CA Congress Woman Jackie Speier introduced the "ROBOCOP" act, which would require carriers to offer such solutions free-of-charge.