Some phone scams relate to recent news events or target specific demographics. Then there are the scams that have been around for years that never seem to end. That seems to be the case with Canadian air duct cleaning scams.
In the first quarter of 2023, air duct cleaning scams were the #1 type of phone scam reported by Hiya users in Canada. Hiya estimates that Canadians received more than 8 million of these calls in Q1 2023.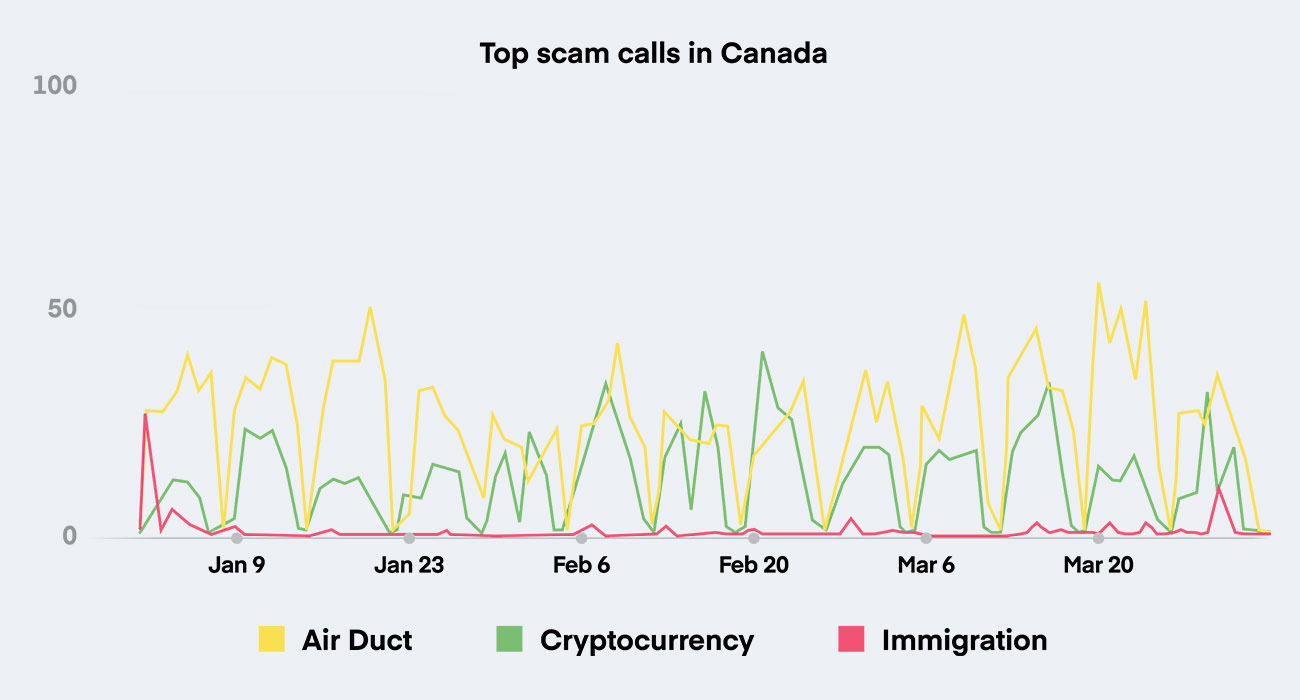 Air duct cleaning scams were the #1 most-reported scam calls in Canada during the first quarter of 2023.
Download the Q1 2023 Global Call Threat Report to see the top phone scams in countries around the world.
What users are saying about air duct cleaning scams
When scam calls are received, Hiya users in Canada can report the call directly from their mobile phones. Hiya monitors these user reports to help identify scam campaigns in their earliest stages and either blocks the calls or labels them as potential fraud. Here is a sample of what users in Canada have been reporting:
"Scam. They call all the time from different numbers saying they are a duct cleaning service."
"Air duct cleaning service. I have told them multiple times to remove me from their call list because I don't have air ducts."
"They have been claiming that they are an air duct company in Toronto. The guy had a heavy Indian accent."
"Air duct scam. Relentless calls."
How the scam works
Using the bait and switch tactic, scammers will make cold-calls to customers by spoofing phone numbers to make them appear to be local. Once they get the customer to pick up the phone, they offer incredible deals on services that can normally cost hundreds of dollars. They set up an appointment, and once the scammer is at the home for the service, they continue to up-sell the victim with extra costs.
The Canadian Anti-Fraud Centre is aware of this scam and has a warning about these types of "service scams" on its website, saying, "A scammer offers services that include air duct cleaning or furnace/boiler repairs at very low rates. If the company completes the services, it is either of low quality, the warranties are invalid, or the repairs can cause potential risks."
There have also been reports in the Canadian media about air duct cleaners who falsely take on the name of a well-known, reputable cleaner in order to book appointments.
"The longevity of air duct cleaning scams in Canada tells us that the scammers must be experiencing some success," said Jonathan Nelson, Hiya's Director of Product Management. "That's despite what we see in our data: high call volumes, short call durations, and high numbers of negative reports from mobile phone users."
Avoiding air duct cleaning scams
Keep in mind that there are many high quality and reputable air duct cleaning companies that provide valuable services to keep your home heating and cooling properly.
The National Air Duct Cleaners Association (NADCA) is a trade group that supports its members through standards, education, certification, and promotion of high quality and ethical services. It, too, is aware of cleaners who take advantage of customers. "Homeowners are told they have mold and other toxic substances in their HVAC systems – claims which are most likely false and used merely to extort money," says the NADCA website.
The NADCA says that unscrupulous cleaners will often claim to be members of NADCA when in reality they are not. It suggests looking for a cleaner on the NADCA's Find a Professional Directory, where users can search for nearby companies or look up a specific company.
Global Call Threat Report reveals top phone scams worldwide
Wondering what the top phone scams are in other countries? Download Hiya's Q1 2023 Global Call Threat Report. The report not only reveals the most common scam tactics in several countries, but it also compares spam and fraud call volumes in 38 countries around the globe.
You can also read our recent blog posts examining country-specific scams, such as the sweepstakes scam in Germany, the Currys PC World scam in the UK, and cryptocurrency scams that are common in many countries.