Some phone scams are simple, such as selling a product or service that's never delivered. Others can be quite elaborate. That seems to be the case with the Currys PC World scam in the UK.
In the first quarter of 2023, the second-most-reported unwanted call in the UK (behind cryptocurrency scams) involved calls purportedly from Currys PC World. Currys is a large retailer of technology products and services, and has more than 800 stores in eight countries. Its size and name recognition make it a favorite for scammers to impersonate.
In Q1 2023 Hiya users reported hundreds of Currys scam and spam calls. Users also reported calls from Carphone Warehouse, which merged with Currys in 2014. These reports come directly from consumers using Hiya's spam and fraud protection on Samsung devices and the Hiya app. When customers receive unwanted calls, they can tap a prompt on their phone to report it as spam or fraud.
While some users simply reported "telemarketing" or "sales" calls from Currys (Currys does call customers about deliveries, adding extended warranties, etc.), most users reported suspected scam calls. Here are some examples:
"Man pretending to be from Currys trying to scam me into a phone contract for an iPhone 14 Max."
"Kevin calling from Currys PC World and running a 40% discount, wanted to know what phone I have."
"Claimed to be Currys PC World. Used a phone number that made it look like it was a local number calling, but clearly calling from overseas due to call lag."
"Acting as Currys, then say they are working with phone networks and can send you a brand new phone. Takes loads of details and wants your bank details."
"Says calling from Currys, who I happen to work for, and we don't call customers up randomly. I actually had a customer come in who had been scammed by this."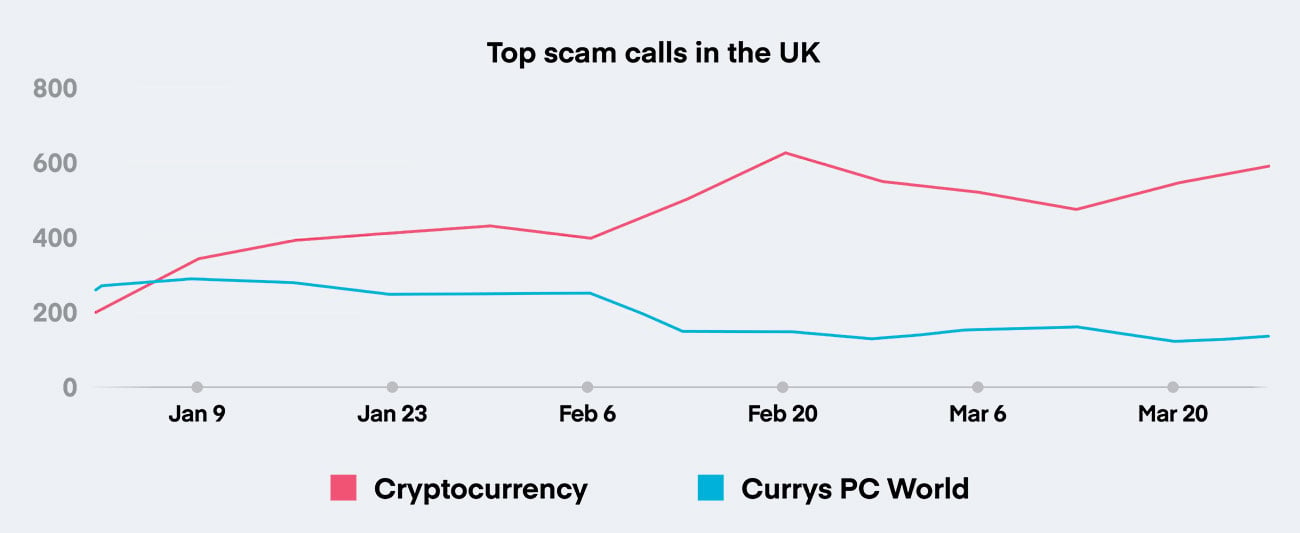 In the first quarter of 2023, Currys PC World was the #2 most common spam call reported by Hiya users.
How the scam works
But what if the call recipient does order an upgraded phone and/or phone plan from a scammer posing to be from Currys? That's where it gets interesting. An article in the online publication PhonesLTD.co.uk describes how the scam works:
This Currys and Carphone Warehouse scam has been ongoing for the past three years from fraudsters claiming to work for different fictitious companies. They offer temptingly cheap mobile packages for the latest iPhone and Samsung smartphones as well as SIM only deals.
Once the fraudsters have gained personal and banking details, they use them to order mobile contracts but not for the phone or SIM card you've asked for. They place orders directly with the networks and any upfront cost is taken by the network, usually up to £50.
Phones are delivered to the victims' house and the fraudsters call and email pretending they've made a mistake and it's someone else's order. They convince the victims to send the phones back via their local post office or courier collection. The fraudsters then wait at those properties for the deliveries and steal the phones!
This leaves the victims with multiple, expensive contracts (usually £80+ a month!) and no phones to send back to where they were actually ordered from to cancel the contracts.
Learn about other phone scams worldwide
Want to discover the top phone scams in other countries? The Currys PC World scam is one of the many scams highlighted in Hiya's Q1 2023 Global Call Threat Report. The report not only reveals the most common scams in several countries, but also compares spam and fraud call volumes in 38 countries around the globe. Data in the report is based on more than 6.7 billion spam calls observed by Hiya worldwide in the first quarter of 2023.