"You're the lucky winner!" That's the sentence we all long to hear. Unfortunately it's also the hook used by scammers to get their victim's attention — and their money.
In the first quarter of 2023, scams involving sweepstakes — called "gewinnspiel" in German — were the #1 phone scams reported by Hiya users in Germany. Hiya received 2,241 complaints mentioning gewinnspiel in Q1, which accounted for about 3.6% of all reports that mentioned a particular scam. Using that figure, Hiya estimates that Germans received more than 1 million sweepstakes calls in Q1 alone.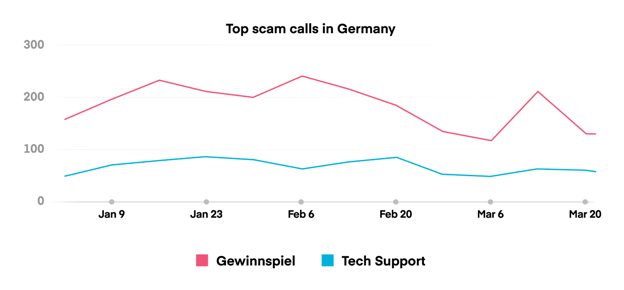 Germany's Federal Criminal Police Office, Bundeskriminalamt (BKA), has issued a warning about sweepstakes scams on its website. It states:
The perpetrators operate from call centers in Turkey and pretend to be lawyers or officials and inform those called that they have won a large prize in cash or merchandise. They insist that the prize can only be paid out if fees, taxes or other costs are paid in advance. Victims are said to pay these fees in cash to someone who collects them, or send them abroad by mail. Regardless of the payment, no profit is ever distributed!
Download the Q1 2023 Global Call Threat Report to see the top phone scams in countries around the world.
Users report fraudulent sweepstakes calls
When scam calls are received, Hiya users in Germany can report the call directly from their mobile phones. These reports help Hiya identify and stop scam campaigns in their earliest stages. Here is a sample of what users have reported in Germany:
"Caller said that I have won money in a raffle and bank details are required. They called on a private number."
"Alleged sweepstakes. Fraud to get my account information."
"Phishing call. Wanted my account data to complete the sweepstakes competition."
Phone numbers spoofed
According to the BKA, the incoming phone numbers used to reach victims are spoofed. The displayed phone number appears to come from within Germany, but the call is actually coming from Turkey. Calls often have a Hamburg area code.
This scam is an example of neighborhood spoofing, a common tactic used by scammers. They disguise their real phone numbers and instead use a number that appears to be coming from in-country or even from the same neighborhood where the recipient lives. Recipients are more likely to answer a local call than one coming from a different country. Hiya Protect, Hiya's voice security solution, uses a proprietary Adaptive AI system that helps identify and block neighborhood-spoofed scam calls.
Germans recruited to assist the scammers
Although most of the sweepstakes calls come from call centers in Turkey, the BKA says assistants are recruited from within Germany.
First they recruit "financial agents" to transfer money from Germany to Turkey. A financial agent may open a new bank account and give the scammers access to the account, or they may receive the funds from the victim — either in person or by mail — and then use a money transfer service to forward it to the scammers.
The scammers also recruit call center employees from within Germany. BKA says scammers post employment ads online promising lucrative earning opportunities. "Good knowledge of the German language is required for the application," says the BKA.
To help protect Germans from sweepstakes scams, the BKA publishes informational flyers in PDF form on how to steer clear of sweepstakes scams, as well as the recruitment of financial agents and call center employees. You can download the documents from the bottom of this BKA bulletin about sweepstakes scams.
How to fight back against sweepstakes scams
While sweepstakes scams can prove to be highly effective, Hiya offers solutions to fight back.
Carriers can add Hiya Protect, a complete call protection solution that enables mobile network carriers to protect their subscribers by blocking fraud calls and labeling spam calls. Hiya Protect goes beyond simply identifying spam-likely phone numbers; it uses a proprietary multi-layer approach that analyzes the phone number, call characteristics, the call recipient, and even the calling enterprise's history across all numbers used.
Read about other phone scams worldwide
Want to find out the top phone scams in other countries? Germany's gewinnspiel scam is one of the many scams highlighted in Hiya's Q1 2023 Global Call Threat Report. The report not only reveals the most common scams in several countries, but also compares spam and fraud call volumes in 38 countries around the globe. Data in the report is based on more than 6.7 billion spam calls observed by Hiya worldwide in the first quarter of 2023.