With so many phone scams creating uneasiness for consumers, one of the biggest challenges for outbound call centers is establishing credibility and trustworthiness.
That's why it is becoming essential to practice call transparency, especially by using branded caller ID. This article covers the most effective call transparency methods in today's telecom industry and what your call center can do to refine your dialing strategy.
What is telecom call transparency?
Telecom call transparency is the act of making business calls to consumers as informative and clear as possible, specifically by communicating calling intent. In the past, people didn't have a lot of options when it came to answering their phone calls; they could either accept or reject a call with little to no information available. With the rise of caller ID, call receipts can know who is calling more often and fraud risk labels often alert recipients to dangerous calls.
Many organizations have turned to CNAM to aid their outbound strategies. While CNAM is a complement to caller ID, it is not technically the same thing. Caller ID is responsible for displaying the phone number of the caller; CNAM adds context by allowing businesses to share their names along with their numbers. But it's worth noting that CNAM is not an automatic service—call centers and other businesses have to subscribe to CNAM through their phone carrier. And CNAM displays never have guaranteed uniformity. There is no way of ensuring that each carrier is accurately showing your company name or has the most up-to-date information.
One way carriers are facilitating call transparency is called call scoring. Carriers can compare your outgoing calls to industry standards and give you a "score" based on your performance. Carriers look at statistics and call labels to determine whether or not the call is legitimate — and poor scores can result in a label like "scam likely" or worse, they could block the call entirely.
Why is call transparency important for businesses?
The more transparent and authentic you can be to your consumers, the easier it will be to control the perception of your brand and guarantee the legitimacy of your organization. Call transparency isn't as optional as it once was; if you want consumers to answer your calls and drive your business forward, you must have upfront intentions and offer greater clarity before people even answer the phone.
You also have to build trust with consumers. If they don't want to answer a phone call, they don't have to. Think about all of their options: they can decline the call, let it go to voicemail, or even block the caller if they don't want that caller having access to them. Now think about the risks that come with answering a scam call—it isn't worth the risk for most consumers.
The very last thing you want is for your company's number to get marked as spam or fraud as it can seriously damage your reputation, stop people from getting your calls, and create a group of unhappy and distrustful consumers. On the other hand, call transparency increases the quality of your brand and boosts customer satisfaction.
In a world where everyone goes online for answers, you need positive reviews and testimonials to establish credibility and encourage more connections. Essentially, businesses need to implement call transparency to:
Save company time and resources

Avoid wasting the consumer's time and resources

Improve your brand's customer perception

Reduce the risk of customers missing important information

Fortify the customer experience
What are the STIR/SHAKEN regulations?
If most people only answer phone calls that they can identify, telecom centers need the proper call authentication technology to get through to consumers. In response to this need for greater transparency, the Federal Communications Commission (FCC) requires all telephone carriers to adopt STIR/SHAKEN technology to authenticate callers and lower the risk of illegal scam calls.
STIR/SHAKEN are acronyms that stand for Secure Telephone Identity Revisited (STIR) and Signature-based Handling of Asserted Information Using toKENs (SHAKEN). You can think of STIR/SHAKEN as a framework used to verify digital signatures of outbound calls, which is the new industry standard for caller ID authentication.
These regulations allow network providers to identify whether a call is coming from an established business or a scammer and then label the call accordingly. As a standard protocol, businesses are now expected to verify their identity with these new STIR/SHAKEN regulations, which can help or hinder your business. If you correctly leverage these practices and adopt the right mindset, you can improve your customer service and brand by having a good call score and adequately monitoring your phone numbers.
Prioritize call transparency with Hiya
Being transparent about your business and your brand is the first step to greater trust and safe dialing practices. Consumers deserve to know who is calling and to make an informed decision on whether to answer or not – and your organization deserves a fair chance to be heard. By practicing transparency in your telecom business, consumers can make a more informed decision and you will in turn utilize your resources more effectively, create a happier customer experience, and enjoy more success.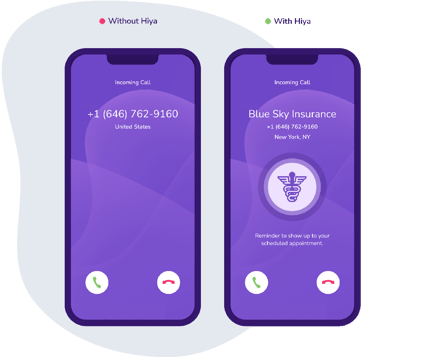 An effective way to make transparent outbound calls is to display a branded caller ID. When making a call, your company name, logo, and call reason will show up on the screen. This means that recipients know who is calling and why – adding a layer of trust to the phone call.
If you want to protect your consumers and your business, it's time to use branded caller ID. Learn more about what your business needs by reading Hiya's Branded Caller ID Buyer's Guide.