Customer experience is more than a buzzword. It's the sum of all interactions between a customer and a business. In a world where customers have endless choices of which companies they choose to do business with, companies that prioritize the customer experience will differentiate themselves.
To keep their customers loyal, companies need to make sure every channel is optimized to reach people when they want, how they want. And while digital channels are great for quick, simple transactions, when it comes to urgent, complex, or private interactions, nothing beats a phone call. In fact, Hiya's State of the Call Report shows that customers prefer a phone call over email and chat for their most important communications, including banking and financial transactions, and communicating with healthcare providers, insurance agents, auto service providers, delivery services, and more.
There is, however, a challenge with phone communication: getting customers to answer their phones. And it's no wonder. Spam and fraud calls have eroded trust in the phone call, making it impossible for businesses and consumers to connect. Without the ability to connect on the most personal communication channel, customers are feeling a disconnected customer experience.
So, what's the solution to getting more calls answered? Adding identity to your outbound calls. While CNAM technology allows call recipients who pay for caller ID on their landline to see who is calling, Branded Caller ID is caller ID built for mobile.
How can companies benefit from branded caller ID?
Branded caller ID enables companies to display their company name, phone number, logo, and reason for the call on the recipient's mobile phone. It immediately answers the two biggest questions a consumer has before they choose to answer: who is calling me and why?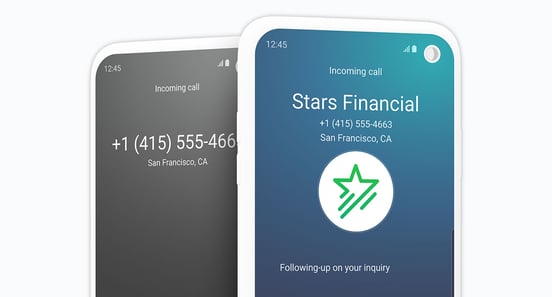 Without and with Hiya's branded caller ID.


Here are several ways that adding branded caller ID can improve the customer experience.
Increase answer rates – Hiya's report reveals that

79% of consumers

say they are more likely to answer the phone when they know who is calling. Branded caller ID can help increase answer rates while delivering a better customer experience.

Have more live conversations – There's nothing like a live conversation to build rapport and gain the trust of customers. On the other hand, an unidentified call is unlikely to be answered, which leads to a game of phone tag that can be frustrating for the customer and a waste of call center resources.

Resolve issues faster – Self-service and digital options work great for simple transactions, but when customers have issues, they want them resolved right away. A phone call can help resolve problems quickly and efficiently, without the need for back-and-forth emails or chat. A live agent can also convey sympathy to the customer and a willingness to help solve the problem.

Increase call center agent satisfaction – Contact center agents are the heart of your organization, so it's important to keep them happy. Their job is to talk to customers, so it's frustrating when they have to call over and over again only to have their calls ignored. When contact center agents are happy and feel pride in their work, they stay longer and they deliver a better customer experience.

Add data points for your call center reps – More live conversations means you have more data points and insights to train and empower your call center reps. Conversation intelligence and speech AI analyzes conversations, so the more calls answered leads to more customer insights. This can lead to fewer transfers, reduced hold times, and more tickets closed - all reducing the amount of time and effort it takes to get an issue resolved.

Set yourself apart from your competitors – Identifying yourself with branded caller ID gives you a step up on your competitors. If a customer has contacted multiple providers requesting a call-back, the customer is more likely to answer the phone if the provider identifies the call with the company name and logo. Unidentified calls will likely go to voicemail — or even worse, the customer may block the number or report it as spam.
The difference branded caller ID makes
Here's an example of how branded caller ID can affect the customer experience.
Say your company sells car insurance. You've made the process so easy that a customer can compare plans, get a quote, and sign up for insurance all from your website. The downside is that the customer's interaction with your company is limited from the time they purchase insurance until months or years later when they get in a car accident and need assistance.
After an accident, the customer may start by filling out an online claim. But when an insurance agent calls to discuss the claim, the customer doesn't pick up the phone. Why should they answer a call from a number they don't recognize? Hiya's data shows in the U.S. one in four calls received from a non-contact is either spam (nuisance) or fraud, and in other countries it's even worse. The insurance agent is frustrated because the customer won't answer the phone, and the customer is frustrated that the insurance company isn't calling.
When it comes time to renew the insurance policy, the customer shops around for a company that will be more responsive — possibly one that responds to an inquiry by a phone call that identifies the company name and reason for the call.
Request a free caller ID inspection
Do you know how your calls are displayed to your customers? Are they being labeled as unidentified, or even worse, as spam? Calls can display differently across different networks and devices, and you may not even know it.
Hiya's complimentary call inspection will provide you with a custom report showing how your calls are being received by others and how branding could impact your key performance metrics.