If you get an incoming call from a foreign country or even a state where you have no friends or relatives, that's a tipoff that it could be a spam call. But if it's a local number, you're probably safe answering the call, right?

That's what scammers are counting on, and that's why they use a technique called "neighborhood spoofing."

What is spoofing?

Before we define neighborhood spoofing, let's define what spoofing is. Spoofing is when callers mask their real phone number and/or caller ID name, and replace it with a different number or name. There's legal spoofing — for example when a company contracts with a contact center and allows it to use the company's name and phone number on the caller ID — and there's illegal spoofing, when fraudsters purposely disguise their real numbers to fool the call recipient.

Neighborhood spoofing is a specific type of spoofing where scammers or spammers intentionally disguise their real phone number to make it look like the call is coming from your local area.

Neighborhood-spoofed calls aren't necessarily impersonating a specific business, they simply use local numbers to make the call seem like it's coming from nearby. The phone number of a neighborhood-spoofed call may match the recipient's area code, or even the area code plus the next three or more numbers.

How neighborhood spoofing has changed

It's interesting to see how neighborhood spoofing has changed over the past few years. When scammers first started using this technique, they would commonly replicate the first six numbers of the recipient's phone number (area code + prefix). But as spam protection services — including Hiya — caught on, their tactics changed. In an effort to evade detection, they started matching only the first five or four numbers, or even just the area code. Sometimes they may not even match the area code, but use an area code that is adjacent to the recipient's area code or from a different region within the same state.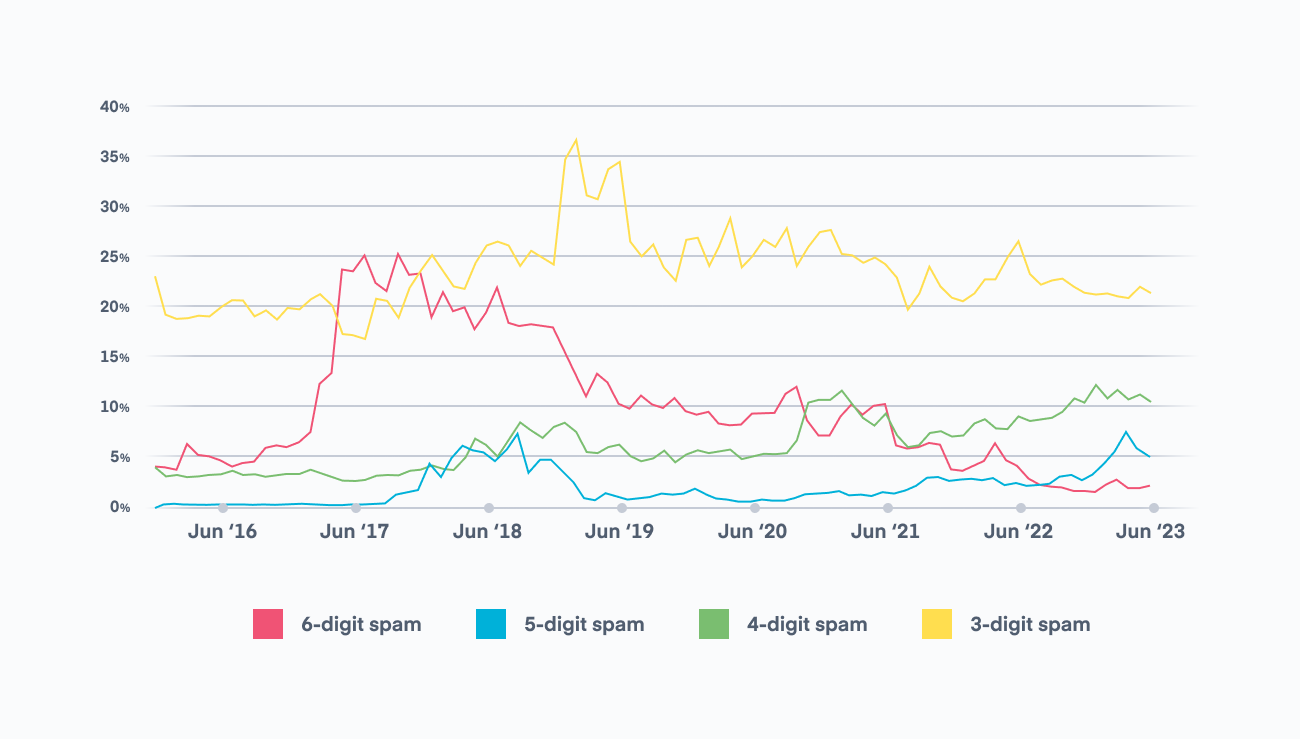 This graph shows the percentage of spam calls where the caller's phone number matched similar digits of the receiver's phone number. Six-digit matches (red line) have declined over the past few years, while fewer-digit-matches have increased.
An example of neighborhood spoofing

An example of neighborhood spoofing can be seen in some utility company scams. One variation of a utility company scam is when fraudsters call and pretend to be from the local utility company, telling recipients that their electricity will be cut off unless they immediately pay their overdue bill. Scammers know that it would be suspicious if the local utility company called from a different state or a foreign country, so they spoof a number that makes it appear to be coming from nearby.

How Hiya fights neighborhood spoofing

Spammers and scammers are constantly changing their tactics — just as we saw above with the number of digits that are matched in a neighborhood-spoofed call. To fight back, it's imperative that carriers implement a solution that can adapt to constantly-changing tactics. Hiya's voice security solution, Hiya Protect, uses Adaptive AI to adjust to the latest methods of neighborhood spoofing and all other types of fraud and nuisance calls.

Adaptive AI is the industry's only self-learning spam protection system. Through multiple layers of protection, it analyzes every facet of a phone call to protect against constantly-changing attacks. One of these layers is Personal Call Filtering, which specifically looks for highly targeted attacks like the utility scam mentioned above.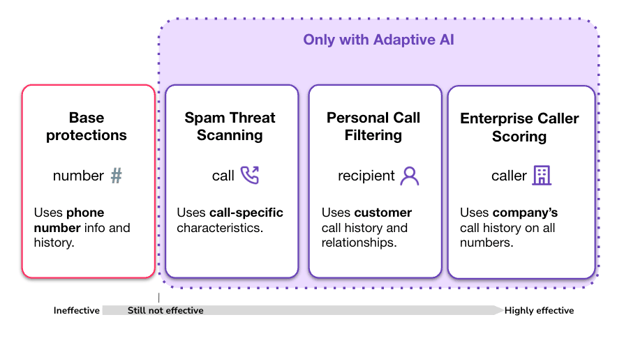 For more information about Hiya Protect, visit our website or send us a message to learn more.