With all the communications options available to consumers today — email, text, video calls, social media, etc. — you might think the phone call is a thing of the past. But that's not what Hiya discovered in a survey of more than 13,000 consumers and 2,000 business workers.
According to Hiya's 2023 State of the Call Report, which summarizes the survey's findings, no matter how diverse our communications options become, the phone call remains the undisputed leader. Consumers continue to rely on voice calls for their most important communications, especially when they involve sharing sensitive information, such as healthcare test results or credit card transactions.
Infact, the survey revealed 47% of consumers prefer voice communication when interacting with healthcare providers, compared to 16% who prefer email and 6% prefer text. For banking and financial transactions, 37% of consumers favor a voice call, compared to 23% who would rather receive an email and 5% a text message.
People prefer voice for interaction with: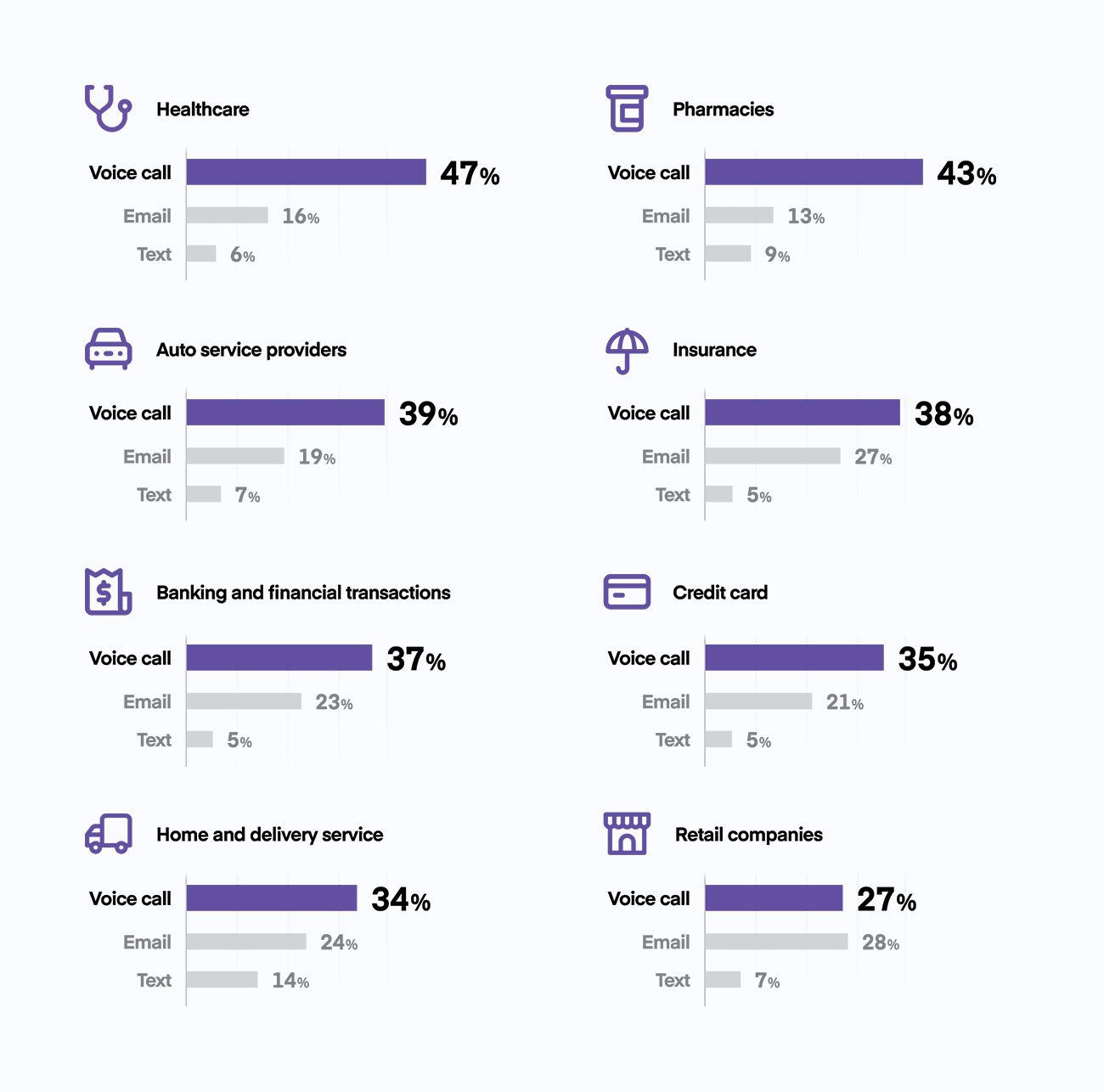 For their most important communications, consumers preferred a phone call over other communication methods.
Working professionals prefer phone calls too
Consumers aren't the only ones who prefer phone calls. The survey showed that working professionals across multiple industries use the phone for their most important communications.
The voice channel is especially critical for sales and service related communications, as it's crucial to revenue generation and customer services. For resolving issues and for closing sales, working professionals opt for a voice call over video calls, email and text.
Working professionals report their top uses for voice calls are: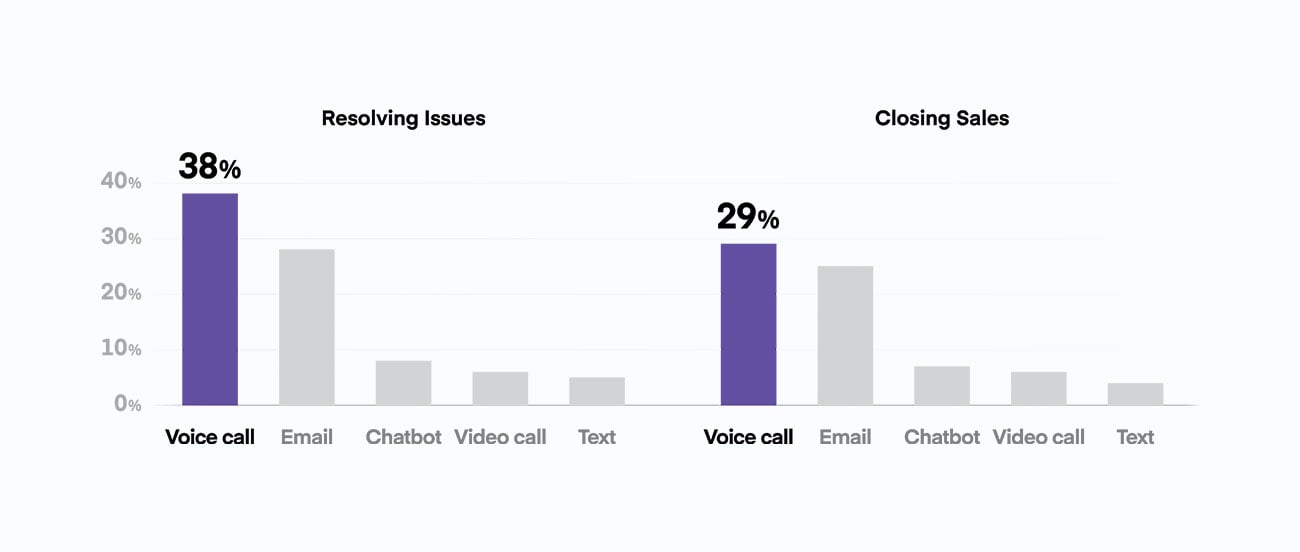 Phone use will increase
Use of the phone call isn't expected to decline in the near future. The majority of business and consumers surveyed said they expect their use of the phone to either increase or at least stay the same in the coming year. The survey showed that 42% of business professionals and 35% of consumers predict that their use of the phone will increase in the next 12 months.

The phone call is not dead
As our VP of Product Tanvi Saxena said in our recent State of the Call webinar, "we operate in an omni-channel world where contact centers use the phone, email, text and even automated chatbots."
In the webinar Tanvi also shared that the questions she hears most often from contact centers include, "How do I know which communication channel to use? Do we have to use both email and text? Should we start using chatbots?"
She says contact centers wonder if the phone call is dead, given how much more expensive it is compared to the other channels of communication.
In her words: "The phone call is not dead. It will always be needed."
Tanvi also highlights five key use cases where a phone conversation is especially critical:
Complicated conversations where a consumer may not know what to ask.

Sensitive conversations where personal information needs to be shared.

Sales conversations where convincing and explaining is required.

Emotional conversations where delicate conversation is necessary.

When communicating with certain demographics who are less technologically savvy.
Learn more
The 2023 State of the Call report is packed with trends and insights that are useful to businesses, carriers, device manufacturers, and consumers. The report reveals the top communication channels for consumers and businesses, the rising threat of phone spam and fraud around the world, the financial and lost-time impacts of spam and fraud calls, and how carriers and businesses can help restore trust in the voice call.
Download the 2023 State of the Call Report