A suspicious robocall campaign has hit the U.S. during the past three months, and today, on Election Day, it has attracted widespread speculation that it is intended to scare Americans away from voting. At Hiya, we analyze more than 12 billion calls per month and power anti-spam technology for many leading communications and technology companies. We've drawn on those insights to capture relevant data on this robocall campaign as well as the recording of the 'stay home' robocall, which we are now making publicly available. I hope this info and our observations will help clear up some misconceptions.
Captured Voice Recording
The audio of the 'stay home' robocall has been captured by Hiya's voice performance platform to give the public a first-hand account of the recording. This 10-second message has remained consistent across all reported instances of this robocall campaign, and we encourage you to listen to this odd message.
Robocall Campaign Trend
Contrary to some accounts indicating that the 'stay home' robocall exploded during the past few days, Hiya has actually observed a relatively steady volume since early September. The call activity has certainly fluctuated during this period, and it peaked in the first week of October, but the overall call volume has remained well within an order of magnitude during the past two months, which we can't say about most robocall campaigns. Importantly, we did not see a spike in activity today on Election Day.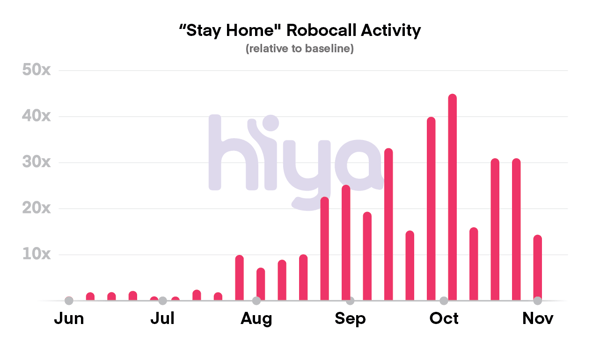 Other Noteworthy Characteristics
We have observed a smaller but still significant portion of the 'stay home' calls placed outside the U.S., including Canada and even Australia.
Like many robocall campaigns, the 'stay home' campaign utilizes phone number spoofing. In particular, this campaign utilizes single-number spoofing, which means that no calling number is used more than once and that the 'stay home' robocalls are especially elusive to spam filtering technology.
U.S. Election Interference? Our Commentary
We at Hiya are not election pundits, but we do track and analyze a vast quantity of robocall campaigns, and we generally have a good understanding of the intent and motives behind robocalls. Whether robocalls are placed by legitimate businesses or fraudsters, virtually all robocall campaigns exhibit a clear commercial intent. Therefore, it is intriguing that we cannot discern a clear motive behind the 'stay home' robocall. The robocall message itself is generic, and it is unclear whether it refers to the election, staying safe from coronavirus, or something else.
The confusion has even spread internationally, and it's not helping that some have jumped the gun in tying these robocalls to the U.S. elections. Canadians and Australians are wondering why in the world they are receiving these calls. "The US elections have got nothing to do with me." We agree, and that's one reason why these calls likely have nothing to do with the U.S. elections.
If the robocall message were intended to interfere with the election, then it is unclear what specifically the interference would actually achieve. That is, during most of September and October, and in particular during the peak of the 'stay home' robocalls in the first week of October, this message would have been most effective in enticing more early mail-in voting. In that scenario, however, we would have expected the 'stay home' robocalls to cease as Election Day approached. Instead, the robocalls continued at a steady pace all the way up through today until the writing of this blog post. And of course, on a day like today, it is understandable that the 'stay home' robocalls would be construed as spooking voters from casting their ballots in person, but that ignores the broader data that we have gathered during the past several months.
Based on all the information available to us at Hiya, we do not believe that the 'stay home' robocall is intended to influence American voters. Of course, the truth on the intent may never be revealed, and from tomorrow onward, we will revert to focusing entirely on non-election calls again. I don't expect that we'll be done with the 'stay home' robocalls anytime soon!
See all the trends in robocalls, spam calls, spoofing, and more in Hiya's State of the Call 2021 Report.