You've likely already been the target of a neighbor spoofing call — you just might not know it. This clever little trick has been on the rise since early 2016. Scammers using this method of fraud will copy (aka "spoof") the first 5 or 6 digits of your company phone number when they call you, in the hopes that your customers will answer since it appears they are receiving a local call from your trusted business. Once they have your customer on the line, they'll begin the same old tired attempts to trick them out of your hard-earned dollars.
Recently, there has been a shift in this strategy. Instead of spoofing the first 6 digits of a phone number, scammers are only spoofing the area code. This change in behavior suggests that anti-spam providers like Hiya are effectively predicting neighbor scam calls. In response to effective anti-spam solutions, the scammers are attempting to continue the scam by switching to a less targeted strategy, in the hopes that by generalizing their approach, they can keep the scam viable. Unfortunately, the spammers are right — predicting if a call is a neighbor spoof with 3 digits instead of 6 is much harder — but Hiya is up for the challenge.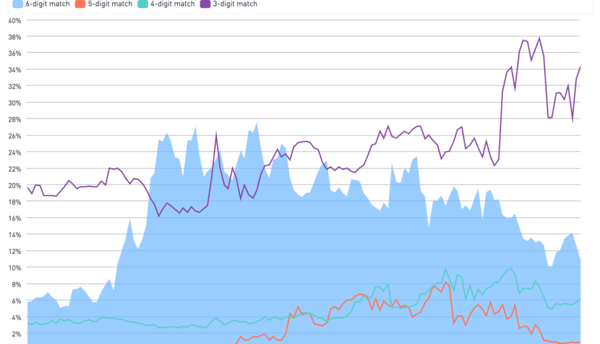 Hiya has mined our data to create aggregations that can identify area code based neighbor scams. Hiya has used this data to implement a model targeted at detecting and identifying these calls. This model is intelligent enough to recognize if the number in question belongs to a business so that legitimate business calls aren't mistakenly flagged as spam.
In 2019, the Federal Trade Commission (FTC) began a major crackdown on robocalls and spoofing. This led to a major decline in neighbor spoofing. Although it is impossible to completely stop phone spoofing, the decline shows that the FTC is making an impact. However, the number of neighbor calls started to rebound after the initial crackdown, so there is still lots of work to do.
How to Stop Neighbor Spoofing
Although it is difficult to completely block neighbor spoofing and prevent your company numbers from being spoofed, there are a few steps you can take to minimize risk to your company.
Find a secure voice solution that provides visibility and control over any of your numbers that have been spoofed

Display a branded caller ID to your customers to give them confidence to answer when it really is you

Get a free reputation analysis from Hiya to see if any of your numbers are attracting user complaints or other negative labels

The reach of the Hiya network is due to strategic partnerships with AT&T, Samsung, Cricket Wireless, and other national as well as regional providers. Our call intelligence platform's reporting feature allows you to see how many times your number has been spoofed on our network, so you can make sure that your customers aren't becoming victims of neighbor spoofing.