Just when consumers were breathing a collective sigh of relief as the vehicle warranty scam fades, there comes a different vehicle-related scam call: the vehicle accident scam.
Over the past several months there has been a steady increase in reports of callers fishing for people who have recently been in a vehicle accident. These reports come from consumers using Hiya Protect via their mobile device manufacturer or the Hiya mobile app. There have also been hundreds of calls captured by the Hiya honeypot: a collection of hundreds of thousands of Hiya-owned numbers used to record spam calls.
Below is a transcript of a vehicle accident scam call captured by the Hiya honeypot:
This is Dannell. We are following up from lead force regarding a survey question you answered regarding a motor vehicle accident. If you wish to be removed from future communication, press 2. Were you or a loved one involved in an automobile accident within the last 24 months that required a hospital or doctor's visit within 30 days of the accident? Press 1 if yes or press 0 if no.
More than 300 calls with this exact wording have been recorded in the Hiya honeypot, with the only difference being the name used at the beginning of the call. It's illegal for telemarketers to call without a customer's consent, so the caller says the message is in response to a survey that they filled out. However, this call was made to a honeypot number, so there is no individual associated with the number.
Other vehicle accident calls don't even bother convincing recipients that they requested to be contacted. Here's another transcript from the honeypot:
Hello. If you or a loved one has recently been involved in an auto accident and would like compensation, press 1 now. If not, and you would like to be removed from the list, press 9 now.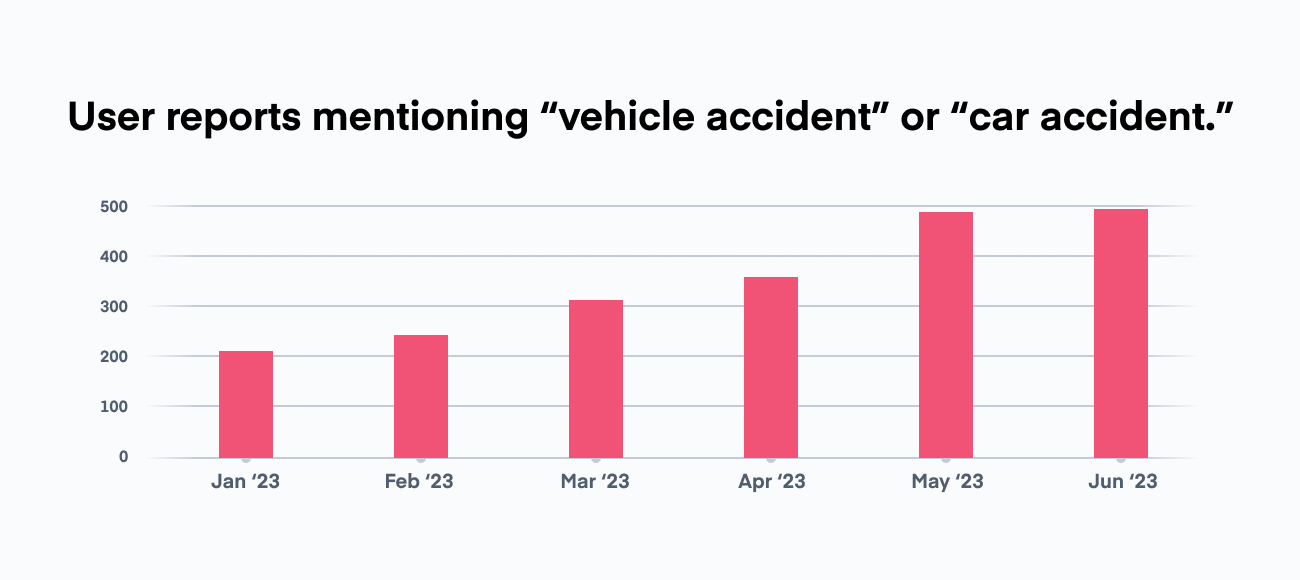 There has been a steady increase in calls trying to find people who have been in car accidents. The graph shows the volume of user reports mentioning "vehicle accident" or "car accident."
Vehicle accident scam reports from users
Hiya users have also been reporting vehicle accident calls. Here is what Hiya users have reported:
"This is one of many calls received regarding something to do with a reported auto accident. They are relentless and calling from a host of different numbers."
"Asking for personal information and saying that I've been in the car accident recently and wanting my name and personal information"
"Post auto accident "free" physical evaluation and massage"
"Claiming they are insurance agents regarding a car accident years ago and providing unclaimed money."
"Auto accident attorney. They have called several times from 3 different numbers. I haven't been in an accident and never requested information. It's most likely a scam."
What are they after?
Vehicle accident scams are nothing new, nor are they confined to a single country. In fact, the Government of Western Australia has a notice posted on its website warning citizens of the car crash compensation phone scam. The notice states, "It is clear the scammers ring lots of people in the hope of striking lucky and reaching a person who has coincidentally been in a traffic accident recently."
The Australia warning speculates that the callers are after personal information, possibly having some information but needing a few more details about the person in order to commit identity theft. In the honeypot transcript shown above, the caller says she is from a lead generating company. It's possible that lead generators are using these phone calls to put together lead lists that they can sell to auto accident attorneys or other businesses.
Average call durations
According to Hiya's data, the average call duration for a vehicle accident call that is answered is 52 seconds. That's just one second more than the average call duration for all answered spam calls: 51 seconds. Call duration can be an indicator of the success of a scam, because the longer the caller has the recipient on the line, the more likely it is that the scam will be successful.
How Hiya fights back against scam calls
Scammers are constantly changing their tactics, and the only way to fight back is with a solution that adapts to ever-changing tactics.
For carriers, there's Hiya Protect. It's a complete call protection solution that enables mobile network carriers to protect their subscribers by blocking fraud calls and labeling spam calls. Hiya Protect goes beyond simply identifying spam-likely phone numbers; it uses a proprietary multi-layer approach that analyzes the phone number, call characteristics, the call recipient, and even the calling enterprise's history across all numbers used.
For enterprises, there's Hiya Connect. Hiya Connect's branded caller ID enables businesses to display their company name, logo and reason for the call on the recipient's mobile phone, so customers can feel safe when they answer.
For individuals, there's the Hiya mobile app. It's a great solution for individuals who use a phone carrier that doesn't offer spam protection at the network level.