For many, COVID-19 seems like a distant memory. Life has returned to near normal, and most people just want to put COVID behind them. Except for scammers.
Hiya's data shows that there was a sharp increase in COVID-related scams in March and April this year — yes more than three years after the initial shutdowns. So, what has been driving this recent surge in COVID-related scams? While several COVID scams are still making the rounds, the two biggest ones we're seeing right now relate to Employee Retention Credit and free COVID tests. Let's take a look at these two scams.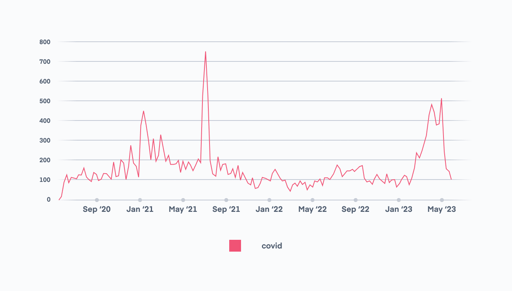 Employee Retention Credit scams
Currently, one of the most popular COVID-related scams involves the Employee Retention Credit. This is a federal tax credit available to businesses that paid employees while the business was either shut down due to COVID or if it experienced a significant decline in revenue. The tax credit was one element of the CARES Act, which was passed by Congress in March 2020 to provide funding for Coronavirus relief programs.
Here's an example of an Employee Retention Credit robocall. This transcript is from Hiya's honeypot, a collection of hundreds of thousands of Hiya-owned phone numbers that are used to capture and analyze spam calls so Hiya can block fraud calls and label nuisance calls.
"Hi. This is the ERC department with an urgent message for your business. Our records indicate that you have not yet filed for your Cares Act employee retention refund due to the COVID-19 Cares Act. Every company with W-2 employees in 2020 or 2021 is owed a refund of up to $26,000 per employee. Press one to file now. The IRS deadline is coming up soon, so press 1 to file for your refund of up to $26,000 per employee. If you already filed, press 2 or dial 87730."
Hiya's honeypot alone captured more than 2,000 robocalls with this wording and many more with similar wording. At the peak on May 3, 2023, scams that included the keyword "COVID CARES Act" accounted for 16% of all robocalls in the honeypot.
ERC scam alert from the IRS
The U.S. Internal Revenue Service is well aware of scammers trying to profit from the Employee Retention Credit. In April 2023 the IRS issued a press release warning businesses about the scam:
Small businesses and tax-exempt organizations should steer clear of scammers promising big money with the Employee Retention Credit. These scammers may lie about your eligibility. They might charge a big fee to "help" you claim the credit. Misinformation is all over the radio, TV, social media, and the internet. You may even get emails or phone calls about it. These scammers lure you with promises of fast money and an "easy application process."
In May, the IRS issued another press release, reminding businesses that anyone who improperly claims the ERC must pay it back, possibly with penalties and interest. According to the IRS, "A business or tax-exempt group could find itself in a much worse cash position if it has to pay back the credit than if the credit was never claimed in the first place. So, it's important to avoid getting scammed."
Instead, the IRS encourages businesses to learn more about eligibility requirements at IRS.gov/ERC.
Free COVID tests scams
While the spread of the coronavirus has certainly slowed since 2020, it's not over, and there are still plenty of people who want to know if their cough and fever is a cold, or if it's coronavirus. That's especially true for older individuals and people with compromised immune systems.
Hiya has been receiving hundreds of reports from users telling of phone scammers offering free COVID tests. Often these are targeted at Medicare recipients. Here is a sampling of what is being reported to Hiya by people using Hiya Protect via their Samsung device or the Hiya mobile app:
"Asked for my Medicare Part B card information. They said I was pre-approved to receive free COVID test kits, but only if I could provide my name & full address."
"Wanted information to send free COVID tests. Wanted me to pay a 'small processing fee.'"
"From the background noise, heavily accented and poorly spoken English, it was obvious that the call originated in a foreign country call center. They offered, in exchange for my Medicare number, to send eight COVID test kits each month."
"Told me COVID test kits were free, then billed Medicare $91.00."
Just this month, the Federal Trade Commission sent out a fraud prevention alert, warning Medicare recipients to be cautious of free COVID test scams and other fraudulent schemes that illegally bill Medicare. The June 8, 2023 alert stated:
Some people with Medicare are getting unordered COVID tests in the mail — lots of tests — and Medicare is getting the bill. Others don't get tests but find charges for tests on their Medicare statements. People report that they don't remember agreeing to orders or recognizing the names of the companies that charge them. Frauds like this, along with mistakes and abuse, cost Medicare an estimated $60 billion each year and steal people's time and energy.
How to fight back against COVID scams
To fight back against COVID scams — and all other types of phone scams — carriers need a solution that can adapt to scammers' constantly-changing tactics. Hiya's voice security solution, Hiya Protect, uses Adaptive AI to protect subscribers from both fraud and nuisance calls.
For more information about Hiya Protect, visit our website or send us a message to learn more.