Spam and scam detection are at the heart of what we do at Hiya, and our primary focus is to provide this service to as many users possible around the world. You can find Hiya spam protection technologies in our flagship apps on iOS and Android, but also in Mr. Number, AT&T Call Protect, T-Mobile Name ID, and in most newer Samsung devices.
But we are always looking for ways to offer more, and a premium service was the next logical step for our flagship Hiya apps. Offering a premium service is tricky, though: we wanted to offer more functionality to supplement the free service without sacrificing any of the free services that we are already providing. And the premium content has to provide enough value so that our users know they are getting their money's worth.
We worked hard crafting and refining the product over a few months in early in 2018 and I'm happy to announce Hiya Premium for iOS.
Our new premium service consists of three primary features:
1. Premium Name Lookups
Use the Hiya app to look up a number and you will most likely get one of the following types of result:
Spam

– The call is a nuisance and you might not want to answer. Telemarketers, political calls, surveys are all spam calls that you might receive on a daily basis

Scam

– These calls can be dangerous! Someone on the other end is trying to cheat you out of money or could even put you into danger.

Business

– One of the 30+ million businesses that might be calling you.

Name

– There's a person's name associated with the number.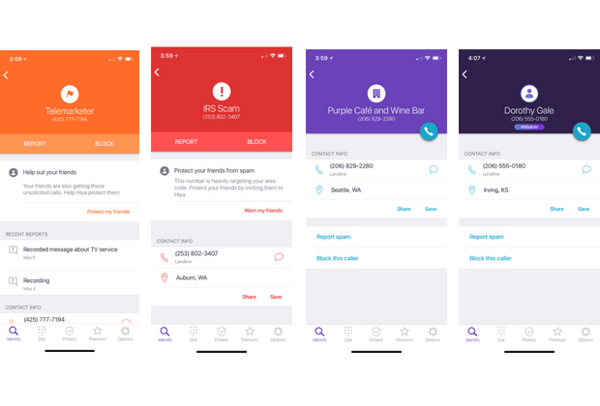 The first 3 types are still free: we don't ever charge for spam, scam or business lookups. But a number that belongs to an individual is called a Premium Name lookup, and believe it or not this information is not free to Hiya either.
Yes, until recently these results were free in the app, but to be honest this data is not free for us. We have several premium name providers that we go to in order to provide the highest quality and accurate names for numbers like this.
When you subscribe, you get up to 200 Premium Name Lookups per month, which is a great value. You probably won't find this information for free anywhere in other apps or on the web, and many services charge up to $3.99 for a single name associated with a phone number. This part of the Premium service alone makes it well worth subscribing.
2. Premium Caller ID
For spam detection, our iOS app provides a large amount of numbers (usually over 200k in the US) to iOS so that they can be identified when you get a call. You'll usually see something like this when you get a spam or scam call that has not been blocked: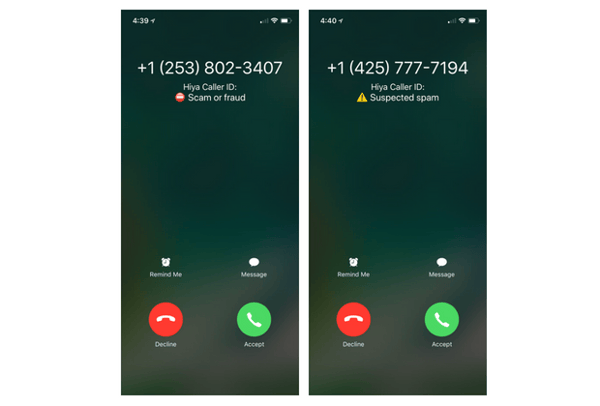 For Hiya Premium, we do the same thing but with non-spam numbers. So you'll have up to an additional 1 million numbers in your iOS Call Directory ready to be identified when you get a call. But instead of seeing a spam warning, you will see a green checkmark (for a name) or business icon followed by the name:
We are regularly updating these numbers and are working on improving our algorithms to make sure that this list is the most useful to you wherever you live.
3. More Frequent Spam updates
Free users of the app can register for automatic updates to their spam and scam lists. These automatic updates happen once a day. But spam numbers can come and go very quickly, sometimes the life of these numbers is just a few hours. Call from a specific number may target users for a short time before the spammers change to a different number. Premium subscribers get their spam lists updated three times a day which makes the app even more effective in identifying and blocking unwanted calls.
What does it cost?
Right now, Hiya Premium is a subscription service on iOS only (We're still working on our Android offering). We currently offer a monthly subscription for $2.99/month and a yearly subscription for only $14.99/year. If you aren't sure, all users are welcome to try the service for free for 7 days, so there is no risk in trying it to see if Hiya Premium is worth it for you.
What's next?
We want to provide as much value as possible for our subscribers, and we have some new features coming later this year that will make the service even better. Stay tuned! Be sure and let us know if there's something you'd like to see in our Hiya app and we'll do our best to make it happen!
Are you a business that needs better answer rates with Caller ID? Find out the strategies to go beyond simple caller id for a true voice performance strategy.