You have a hot lead. The prospective customer has recently filled out a form saying she wants to be contacted to get a quote on solar panels for her home. You call, but no answer. You try a later time, and then you try the next day, but still no answer. Why won't she answer her phone? Because she doesn't know who's calling.
That's the situation for many in the solar industry. Customers and prospects aren't likely to pick up a call from an unknown caller. In fact, Hiya's 2023 State of the Call Report revealed that 87% of consumers believe that unidentified calls are fraudulent. The report also showed that in the U.S., 35% of all unknown calls (outside of an individual's contact list) were either nuisance or fraud calls.
So, how can solar sales, installation and customer service representatives improve their ability to connect with customers? Branded caller ID.
What is branded caller ID?
Branded caller ID is a technology that allows companies to display their company name, phone number, logo, and reason for the call on the recipient's mobile phone. Branded caller ID immediately answers the two biggest questions people have when their phone rings: who is calling me and why are they calling me?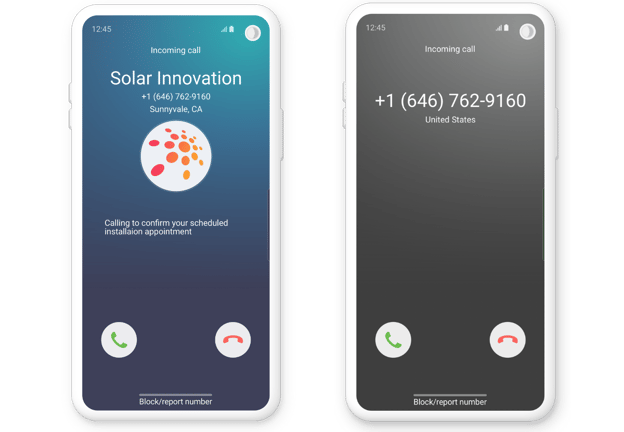 Hiya's branded caller ID allows businesses to display their company name, phone number, logo, and reason for the call on the recipient's mobile phone.
What else can branded caller ID do?
Some branded caller ID providers simply give you a sharp-looking display for your customers to see. Hiya's solution, Hiya Connect, goes beyond providing a branded call display. It offers data and analytic tools that solar companies can use to proactively address reputation issues they may be having with their outbound calls, including:
Spam ratios – The percent of outbound calls flagged as spam by the carrier.

Spam labels – How the carrier may have labeled the call: telemarketer, robocaller, fraud likely, etc.

User reports – Comments written by call recipients who report the call as spam.

Blocked calls – How often the carrier or recipient blocks the phone number.
Armed with this data, outbound callers can see how their calls are being perceived by recipients and can change their calling practices to make them more receptive to customers and less likely to violate carriers' spam rules. As a result, they can achieve better contact rates and lower spam rates, ultimately enhancing their overall communication strategy.
How branded caller ID can help the solar industry
While a printed brochure might attract attention from prospects, or an online form might bring in leads, it's really the phone call that seals the deal in the solar industry. Only with a phone call can you build rapport with a customer, answer questions, and instill confidence that you're the right company for the job.
A phone call is critical in so many of the touch points of the solar industry, before, during, and after the sale. Here are ways branded caller ID can help you connect with customers at various stages of the buying process:
1. Before the sale

Selling solar panels and/or installation has become incredibly competitive. The number of companies offering solar products has skyrocketed in the past few years, with demand accelerated by the pandemic and rising energy prices. However, not every home can have solar, resulting in rising competition and multiple solar companies fighting for the same leads.
Customers commonly seek out price quotes and request information from several companies. Often, the first company to talk to an interested customer will get the job. And that's key, because you can't talk to prospective customers unless they answer the phone. That's where branded caller ID can help.
Learn more about how a large residential solar installation company was able to increase speed to lead and increased engagement with hot leads after adding Hiya's Branded Call to its outbound calls, resulting in a:
34% increase in

contact rate

23% increase in

call duration
Use branded caller ID to stand out from the competition and let the leads who want you to call know that it's you. See what customers see when you call with a complimentary call inspection.
2. Closing the sale

Setting an appointment is only the first step in closing a sale, and the phone call continues to be the fastest, most reliable, most personal way for companies and homeowners to connect.
To provide an accurate quote, the appointment needs to be confirmed, a home visit needs to happen, the homeowner needs to select which company they are going to work with, and then the deal can close, so the voice call continues to be extremely important.
While the price of solar panels is dropping, it's still one of the largest investments a homeowner can make and they need to make sure they are working with the company that they are confident will give them the best customer experience and one they can trust.
By adding identity to outbound calls, companies can instill trust that it is them calling the customer, whether they are selling the panels, confirming appointments, or coming to provide a quote.
3. During Installation

The importance of phone conversions doesn't end after you've closed the sale. That's just the beginning. The installation process will require many other phone connections, including:
Calling the customer to schedule installation.

Calling project managers and contractors.

Calling inspectors and agencies for permits.

Calling homeowner associations for initial and final approvals.
The list goes on and on. Even delays of a few hours can throw off the installation schedule, leading to a domino effect down the line. More efficient communication means faster project completion, happier customers, and more time for new projects.
4. After installation (customer service)

After installation, if a customer calls with an issue, they expect it to be resolved quickly. That may lead to additional back-and-forth calls. Having branded caller ID lets customers know that it's you calling — not just some unknown number.
Solar is a big investment, and the warranties for residential solar panels will often last 25 years. Homeowners aren't just looking for someone to install solar panels, they are looking for a company they trust. Using branded caller ID every time helps build trust and leads to better customer experiences — and that leads to more referrals.
The importance of adding identity to your outbound calls
Companies spend millions of dollars on advertising in an effort to build brand recognition. However, they often overlook the benefits of branded caller ID. Every time you place a call, you put your company's name and logo in front of the customer. That leads to greater brand recognition and keeps your company top-of-mind when shopping for a solar company — or when making referrals to a friend. It's an extremely cost effective way to not only build your brand, but to speed your processes at every touch point.
Learn more
Want to learn more about branded caller ID and how it can help increase the contact center metrics that matter most to you? Download the checklist for evaluating and choosing a Branded Caller ID vendor.
Do you want to see what customers see when you call? Get a free call inspection today.