Woohoo! It's time to bring out the cake, pop some champagne, and celebrate! For what you may ask? Well, some of you may have already heard the good news, but for those of you who've been living under a rock, Hiya has teamed up with ZTE USA, making them the first OEM to provide users like you with the ability to identify and block unwanted calls on Axon 7 devices.
We know, we know, you may be asking yourself, "Ok now that we've served up the cake and had a few sips of champagne for this amazing union, what does this all really mean?"
Well, don't fret we're here to help you answer your questions and to provide you the assurance that this is definitely something to celebrate.
First thing's first, what does this integration really mean?
ZTE has integrated Hiya's caller profile, spam detection and call blocking functionality in the Axon 7 smartphone. The dialer and contacts and messaging apps now support data provided by Hiya, making it easy for you to protect yourself from unwanted calls the moment you start using the device. You'll know you're being protected when you see a fully-integrated experience on your incoming call screen, call log, post call screens and more. It'll look a little something like this: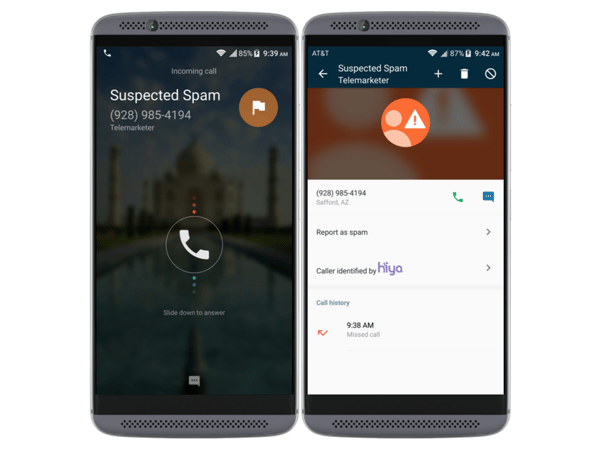 Ok, I have an Axon 7 device, is this a service I need to download?
Update your Axon 7 device to the latest Android Nougat version that is available today, and the Hiya integration is ready to go. When you initially launch your Phone app, you will be prompted to enable ZTE Caller ID powered by Hiya.
We trust ZTE, but just to be safe, who is Hiya and how do they work?
At Hiya, we'd like to provide our consumers with a better phone experience which includes protecting you from spam and scam calls. Simply, our goal is to arm you with real-time information and context to determine whether or not you should pick up an incoming call. Hiya powers spam protection for Samsung, T-Mobile, AT&T and our consumer apps for Hiya and Mr. Number. And now that we've partnered up with ZTE, they're making call protection much easier by integrating our call protection services into an interface that you are already familiar with.
Want a deeper look into how Hiya protects consumers from fraudulent and unwanted calls? Check out our monthly Robocall Radar.
So, to start protecting myself I need to give Hiya access to my contacts? How do I know this is safe?
Hiya needs access to your Contacts to enable key scenarios on Axon 7 – it helps us filter out numbers that may look spammy, but are actually legitimate (like your Doctor's office). It also allows Hiya to identify callers under the name you prefer to see (instead of how they appear in Hiya's data), to enable your ability to add numbers to your blocklist, and to dial numbers from within our smart dialer.
Your contacts also help improve Hiya's protection and identity services. Unlike some of our competitors, we do not single-source Caller ID data from your contacts nor do we make them searchable on the web. We promise we will keep all your contact data private, we won't sell it to third-parties, or use it to spam your contacts either. Here's a closer look as to how access to your contacts will guarantee the best phone protection.
Ok, so now that you know you're working with a service whose main goal is to protect you from those annoying calls, get a move on and make use of this new power your Axon 7 has against unwanted calls!