The voice channel has always played a critical role in healthcare communications among payers, providers, and patients. More often than not, patients prefer this channel to communicate with insurers and to share private information or health matters with providers, while providers still rely heavily on phone calls for appointment reminders and follow-ups. And sure enough, throughout 2020, voice traffic increased 184% as people made clear that they prefer to use the voice call over all other methods of communication.
But with this heavy reliance on the voice channel also comes an increase in fraud calls, with scammers aiming to exploit people sharing their private information in this sector. In North America and Europe, consumers received an average of 144 spam calls last year, with 60% of those calls fraudulent. And when it comes to fraud calls in healthcare, everyone feels the pain. When patients don't trust unidentified calls even though they may be coming from legitimate providers, critical medical appointments and follow-ups go unscheduled. And with every missed and open appointment, providers get pummelled by lost reimbursements and payments. Finally, with vaccines beginning to be rolled out in earnest, unidentified calls make things even more challenging in the quest to inoculate people quickly and efficiently.
However, there are ways for healthcare organizations to protect themselves from scammers and prevent unidentified calls from damaging their brand, customer experience, and overall revenue. Hiya's new report,State of the Call 2021 Impact Report for Healthcare, presents data from the 150 billion calls Hiya processed in 2020 as well as key findings from a recent survey conducted by Censuswide on behalf of Hiya for its State of the Call report, all of which can help contact centers making calls for the healthcare industry understand the opportunities available to optimize and protect the voice channel.
Here are four key highlights from the report:
Use of the voice channel in healthcare shows no signs of slowing, and it remains critically important to communication among patients, payers, and providers.
When it comes to healthcare matters, the majority of consumers surveyed preferred to be contacted by businesses over the phone — surpassing email, text, video calls, and other popular channels of communication. This is not surprising, given the often complex and sensitive health information that needs to be communicated between patients and providers or their insurers.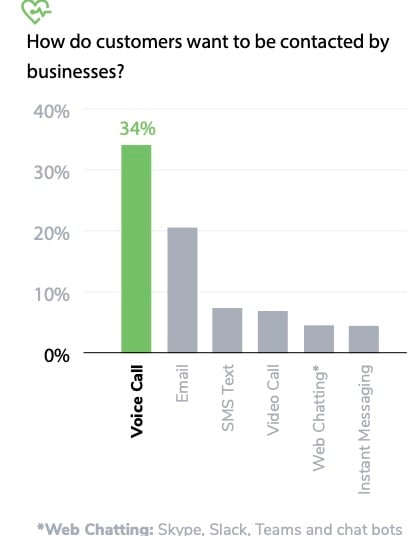 On the business side, more than half (53%) of healthcare professionals surveyed strongly believe that the voice call has become more important than ever in their organization. Specifically, voice was found to be the preferred method of communication for customer service (61%), communicating with customers (50%), communicating with co-workers (45%), and closing deals (26%). With payers, providers, and patients all preferring to use the voice channel for customer service and support, it's easy to see how the contact center plays a strategic role in customer retention and shaping satisfaction and brand perception.
With increased reliance on the voice channel in healthcare comes greater opportunity for spam, fraudulent calls, and spoofing.
Scammers gravitate toward the voice channel in the healthcare vertical because it involves the exchange of private, personal information among patients, providers, and payers.
Overall, 62% of US consumers surveyed say they have been "spoofed," or have received a call from someone impersonating a legitimate business at least once, with 21% of respondents who have received a call from a spoofer saying that the impersonator claimed to be operating in the healthcare sector. Patients must protect themselves from scammers while payers and providers must do all the can to protect their customers, not to mention their brands.
Decreasing levels of trust and declining answer rates are negatively impacting healthcare organizations.
When patients don't know who is calling, not only are they less likely to answer these calls, but their level of trust in a brand also decreases. In fact, almost half of consumers (48%) say spoofed calls make them suspicious of any calls coming from that organization. And when providers can't reach patients to schedule and confirm appointments, this results in lost reimbursements and payments. Forty-seven percent of healthcare professionals surveyed said their business has had a negative impact as a result of not being able to reach patients via phone, with productivity (56%), customer satisfaction (44%), and efficiency (56%) being the top ways it has been negatively impacted.

Fraud calls are a tremendous threat to healthcare organizations, who also believe the responsibility of fixing the problem is up to multiple parties — including themselves.
The majority of healthcare professionals surveyed (71%) believe scammers and fraudsters are to blame for spoofed calls, they also feel that carriers (39%), government (39%), and businesses (34%) all bear the responsibility of fixing the problems. However, to quickly find a solution, healthcare organizations can take this responsibility into their own hands. With the right technology in place, they can more rapidly combat these fraud calls, improving the customer experience for their patients while driving greater revenue for themselves.
The reliance on voice in healthcare is showing no signs of slowing as people continue to handle complex, private health matters via the reliable voice channel. With key insights like these, healthcare organizations can begin to develop more informed strategies and utilize the right technologies to win the battle against unidentified and fraud calls, creating better experiences for everyone in the healthcare ecosystem.
Click below to read the complete review of the voice trends for the healthcare industry.