You might think of unwanted calls as a mere annoyance. But there are huge costs associated with nuisance and fraud calls, both in terms of time and money.
How much time and money is lost each year to unwanted calls? That's one of the things Hiya uncovered in the 2023 State of the Call Report. The report reveals trends and insights related to phone usage, and is based on a survey of more than 13,000 consumers and 2,000 businesses in the U.S., U.K., Canada, France, Germany, and Spain.
Scam victims lose hundreds of dollars
In the survey, consumers were asked how much money they had lost from phone scams in the past 12 months. For those who did lose money, the average amount lost ranged from $282 in Spain (U.S. dollar equivalent) to $472 in Canada. In the largest market, the United States, victims lost an average of $431.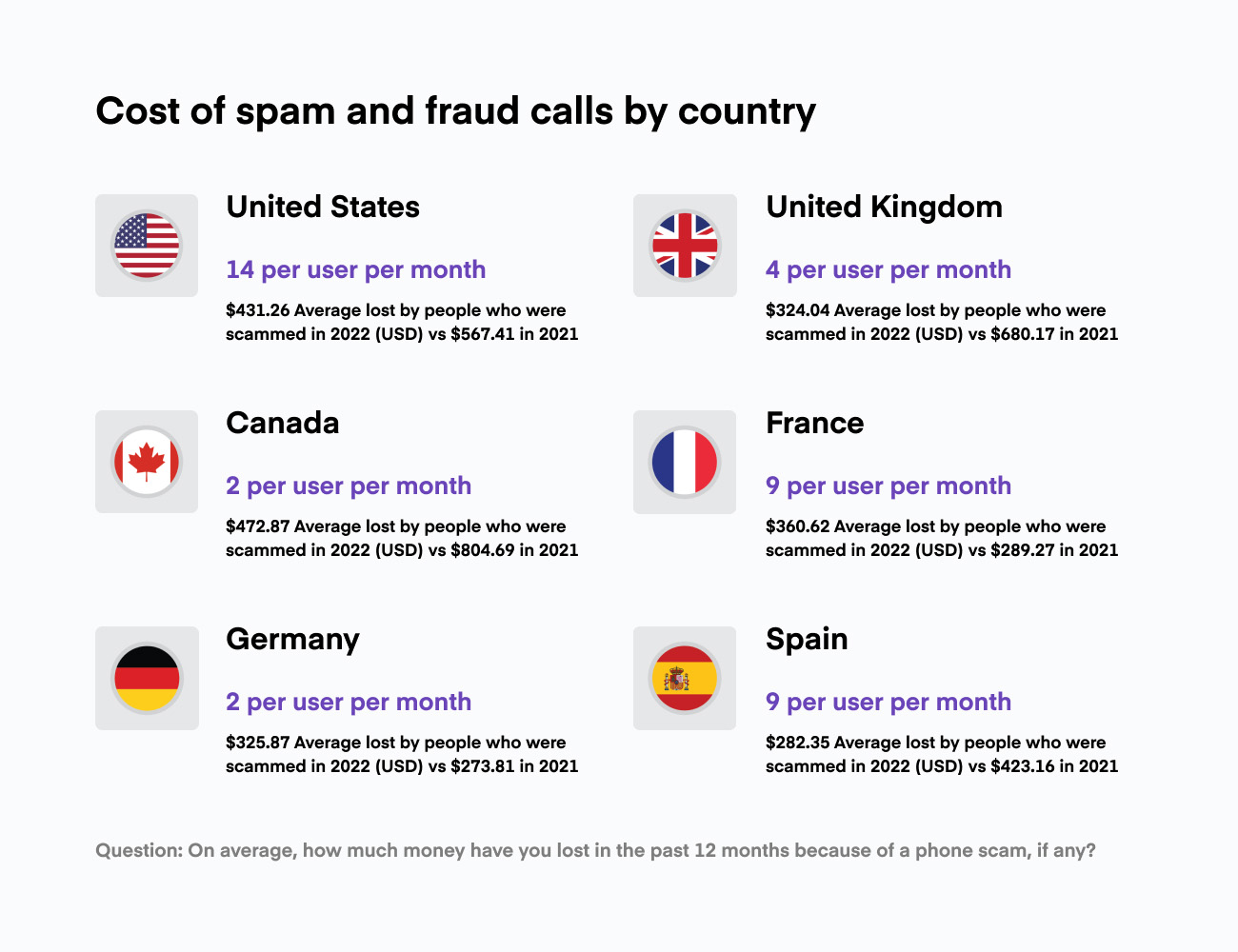 The only good news was that the amount of money lost to phone scams in 2022 was less than 2021 in the U.S., U.K., Canada, and Spain. For example, in Canada, average losses were down from $804 in 2021 to $472 in 2022. On the other hand, France and Germany experienced higher losses in 2022 than the previous year.
"Although we saw declines in most countries in 2022, these are still some big dollar numbers," said Hiya CEO Alex Algard in the State of the Call webinar that highlighted key findings from the 2023 report. "And if you look at this from a consumer perception issue, whether it's $400 or $800, it's far too much."
Lost time adds up
Not every phone customer loses money to scams, however, most mobile phone users will lose time dealing with them.
"In addition to financial metrics, consumers are feeling fed up because they are losing a lot of time," said Algard. "Worldwide, consumers reported losing about a half hour in the past 12 months."
When consumers were asked, "On average, how much time did you lose in the past 12 months because of phone scams and/or nuisance calls, if any?" answers ranged from 22 minutes in Germany to 32 minutes in the United States. Here's the breakdown: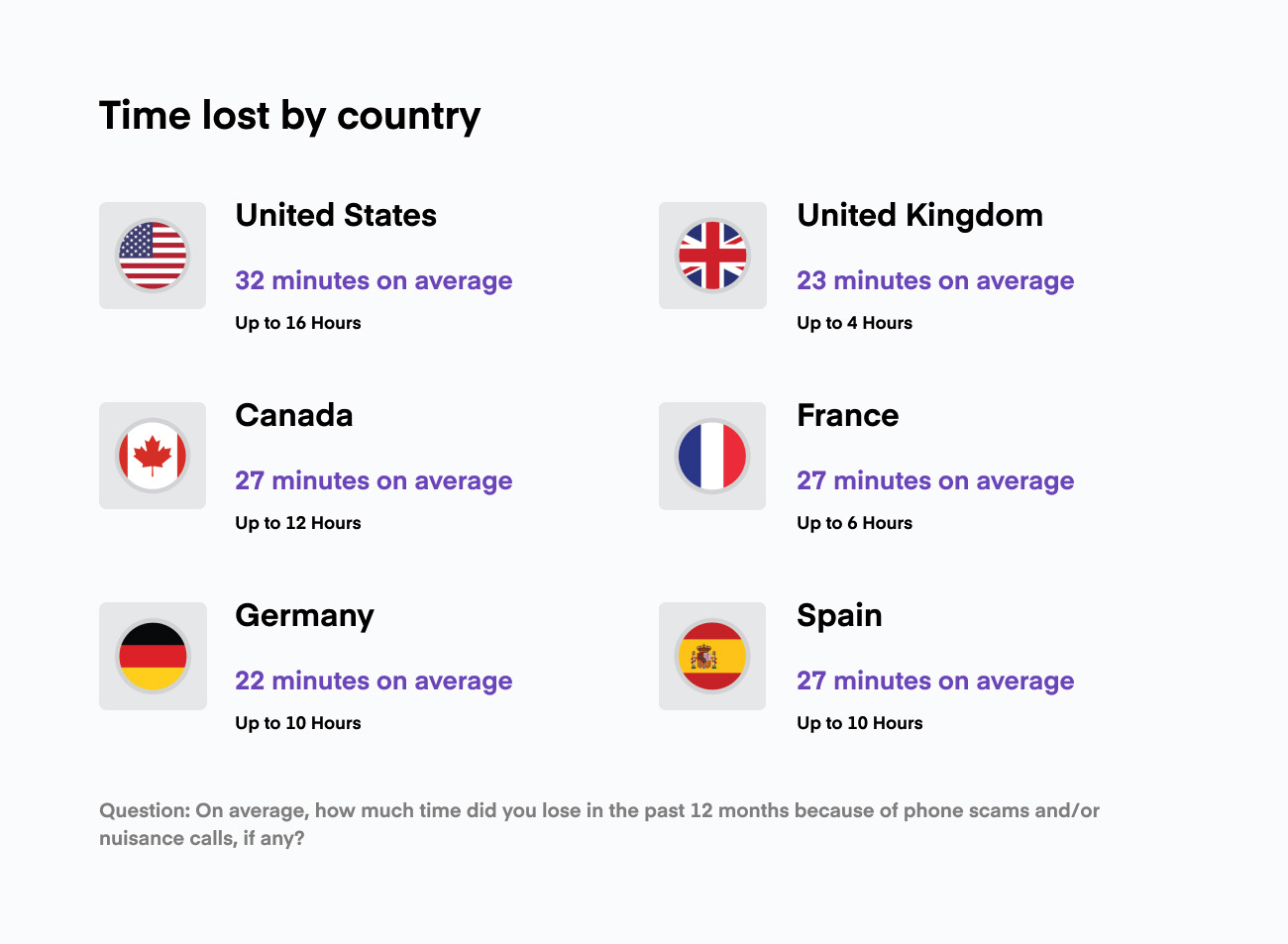 While 30 minutes per year might not sound like much, it quickly adds up when you multiply it by the staggering number of mobile phone users in the world. For example, in the U.S. alone, there were 307 million smartphone users in 2022, according to Statista. Multiply that by 32 minutes per user and it works out to 163 million hours lost per year — and that's just a single country.
"When we look at the overall impact of spam in the terms of dollars and time, it really adds up and it all contributes to a pretty sub-par consumer experience," said Algard.
The solution
So, what's the solution? How can carriers protect their subscribers from callers intent on stealing money and/or time? Carriers can add a robust call protection system, such as Hiya Protect.
Hiya Protect is a complete call protection solution that enables mobile network carriers to protect their subscribers by blocking fraud calls and labeling spam calls, and helping them discern wanted calls from unwanted calls. Using Adaptive AI technology, Hiya analyzes past and present call patterns and responds to new threats as they emerge.
More survey results
The 2023 State of the Call report is packed with trends and insights that are useful to businesses, carriers, device manufacturers, and consumers. The report reveals the top communication channels for consumers and businesses, the rising threat of phone spam and fraud around the world, the financial and lost-time impacts of spam and fraud calls, and how carriers and businesses can help restore trust in the voice call.
Download the 2023 State of the Call Report