Robocallers are capitalizing on the coronavirus pandemic, with phone scams tied to stimulus checks being sent by the U.S. government sharply on the rise. Based on our analysis of more than 13 billion calls per month, Hiya data shows these scams increased 844% from the week of March 16th, when the scams first appeared, to the week of March 23rd. They increased another 78% the week of March 30th and an additional 48% the week of April 6.
Hiya identified the most popular scams tied to the COVID-19 stimulus checks, as well as the top 10 area codes currently being hardest hit by these calls.
Most Popular Scams
The most popular scam asks for a user's bank info, claiming it is needed for direct deposit of the stimulus check.
The second most popular scam requests additional personal information (e.g. social security number, account details) to deposit the check that day.
Other scams on the rise include fake companies or government agencies offering loan forgiveness or loan advances if the individual forfeits their stimulus check, and fake government agencies claiming an individual's SSN is no longer active/valid.
We first started seeing instances of other coronavirus-themed scams in user complaints in late January. These fraud calls range from health insurance related inquiries, to home sanitation services for virus prevention, to scammers offering fake COVID-19 cures, for a price. Since that time, instances of these types of calls have continued to grow exponentially – with certain regions of the country more impacted than others.
Top Area Codes Where Calls Appear to Originate: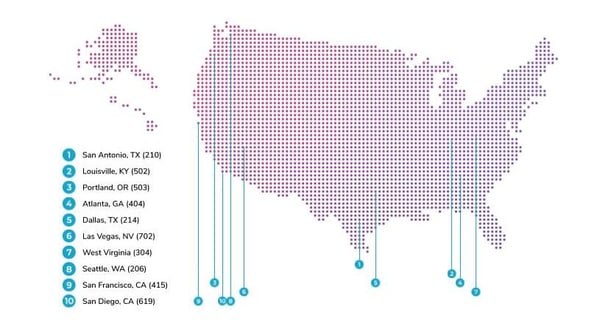 Although the COVID-19 pandemic has opened a prime opportunity for scammers to find new victims, there are measures consumers can take to protect themselves. Below are several tips you can take to stay safe during this time.
Tips on mitigating the risk of scam calls include:
Do not answer or return calls if you do not recognize the number.
Under no condition would anyone from the federal government call asking for bank account details, social security numbers or other personal information.
There are no known cures or preventative treatments for COVID-19 at this time. Never give credit card or checking account information to anyone claiming to sell Coronavirus tests or remedies.