We write a lot about phone scams that target consumers, but the Google Business Profile scam primarily affects business owners.
What is a Google Business Profile? Let's say you're looking for a nearby restaurant, coffee shop, or auto parts store. You simply type the category into Google Maps or your Google browser and it shows all the nearby businesses that provide that service.
Google Business Profile listings display the business's name, phone number, hours of operation, driving directions and more. It's helpful to the consumer and even more helpful to the business owner in attracting new customers. Best of all, it's free. Of course, scammers are experts at trying to charge people for something that is free.
Samples of Google Business Profile scam calls
Below are two examples of Google Business Profile robocalls. Over the past few months, more than 17,000 of these robocalls have been captured by the Hiya honeypot: a collection of hundreds of thousands of Hiya-owned numbers used to record spam calls.
"Business owners, your Google Business Profile has not been registered with Google. Please press 1 to be transferred to a business listing specialist to assist you in registering your Google Business Profile, or press 2 to be placed on the do not call list."
"Hello. We're calling from Online Listing Group because your Google Business listing needs attention. If your listing is not showing up properly, customers will not be able to contact you or find your location. If you are the business owner, press 1 now to verify or update your business. Press 9 to opt out."
The honeypot has recorded more than a hundred variations of Google Business Profile robocalls. The name of the supposed "Google partner" making the call changes, but the message is fairly similar: the listing "needs to be verified," or "has been flagged for review," or "may be suspended" and the caller will assist you in doing that — for a fee. Of course it's a lie, because Google doesn't charge to set up or make changes to a Google Business Profile.
What Hiya users are reporting
In addition to the honeypot, Hiya also receives user reports. These come from consumers using Hiya Protect via their mobile device manufacturer or the Hiya mobile app. Each month Hiya has received more than 2,000 reports of Google Business Profile scams. These reports provide additional insight into how consumers are experiencing the calls:
"Said he was from Google trying to get me verified, then wanted payment. I asked for a call back number and he hung up."
"Fake Google harassing to no end wanting $399 to verify a business."
"Another call regarding my "Google listing." I've asked them to stop calling. They keep calling from different numbers."
A number of users reported being called about their Google Business Profile but said they don't have a business. That leads us to believe that these may be random robocalls rather than calls targeted specifically to businesses. Plus, thousands of calls were made to Hiya honeypot numbers and those are not associated with any business — or even any individual. They are completely unlisted numbers.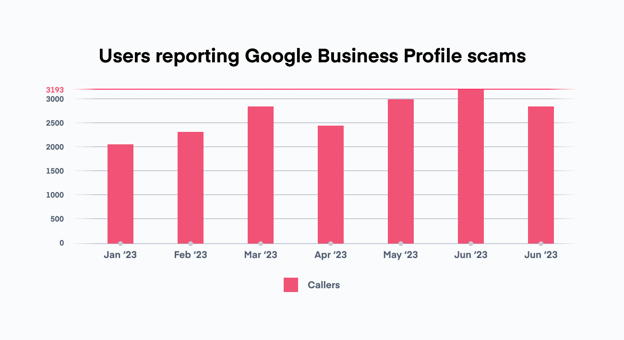 Since the beginning of the year there has been an increase in Hiya users reporting Google Business Profile and other Google-related phone scams.
Google files lawsuit against alleged scammers
Google is aware that scammers are trying to make a profit off free Google Business Profiles. In fact, last year Google filed a lawsuit in Ohio against a company called G Verifier, which, it says, defrauded customers. The lawsuit claims:
Google alleges that G Verifier regularly places unsolicited telephone marketing calls to Business Profile owners throughout the United States and Canada. During these telephone calls, which primarily target small businesses, sales agents falsely represent to business owners that they must pay a fee in connection with their Business Profiles. Misleading claims include:
(a) That unless a business "verifies" or "validates" its Google listing with G Verifier, Google will label the business "permanently closed"; will remove, "deactivate," or "disable" its Business Profile.
(b) That a business can only avoid the above issues by paying a fee, with the express or implied message that such fee is required by Google.
(c) That, for a payment, G Verifier can cause the business to be displayed among the top results in Google Search.
(d) That G Verifier is a "department of Google" or is otherwise a part of Google, or that it "works for Google" to verify or validate business listings.
The lawsuit claims that G Verifier typically charges $99 to "verify" a business, and that the false claims are significant because businesses will pay to avoid having their Business Profile deactivated or marked as permanently closed.
Google scams are a global problem
Google Business Profile scams and other Google related scams are common in many countries throughout the world. Hiya's data shows that the highest volume of these calls are received in these countries (in order): United States, Canada, U.K., Australia, Italy, Germany, India, Spain and Poland. .
Hiya can also see which US States and Canadian Provinces receive the most Google scam calls. The states/provinces that receive the most calls per person are (in order):
Kentucky, US

British Columbia, Canada

Rhode Island, US

Northern Canada

Ontario, Canada

Alberta, Canada

Hawaii, US

Wyoming, US
How to fight back against Google Business Profile scams
Hiya offers a variety of solutions to fight back against the Google Business Profile scam and other fraud and nuisance calls.
Carriers can add Hiya Protect, a complete call protection solution that enables mobile network carriers to protect their subscribers by blocking fraud calls and labeling spam calls, and helping them discern wanted calls from unwanted calls. Using Adaptive AI technology, Hiya Protect analyzes past and present call patterns and responds to new threats as they emerge.
Enterprises can help their customers feel safe answering the phone by adding Hiya Connect, which enables businesses to display their company name, logo and reason for the call on the recipient's mobile phone. With Hiya Connect, enterprises can improve customer engagement while protecting their customers from deceitful interactions.
Individuals should contact their phone carrier to see if it offers call protection at the network level. If not, individuals can download the Hiya app.