Phone scammers like to catch their victims off guard. They jolt their victims with upsetting information and push them to act before they can think logically about the situation. That's certainly the case with "love ones scams."
We've written before about the grandparent scam, where a fraudster pretends to be a grandchild in trouble ("I'm in jail" or "I've been in a car accident") with an urgent request for financial help — often via a wire transfer or other untraceable means. Now, these scams have expanded beyond grandparents, with fraudsters impersonating sons, daughters, and other relatives. But the call to action is usually the same: send me money quickly!
In our just-published Q2 2023 Global Call Threat Report we noticed that consumers around the world are reporting these types of scams. In Q2, loved ones scams showed up as one of the top three most-reported scams in the US, UK, Spain and Germany.
Examples of loved ones scam calls around the world
Consumers using Hiya Protect via their mobile device manufacturer or the Hiya mobile app are able to report scam calls. They can report a call as fraud or various types of nuisance calls, and can also write comments that provide more information about the call.
Here are some examples of what users are reporting:
From the US
"Pretending to be my daughter hysterically crying asking 'mom please help me' & then a man got on the phone pretending to be a police officer speaking on her behalf & stating she didn't have any ID & was in a bad accident but confirmed that I was her mother. I told him that I was going to report it to my local police department."
"This number sent me a text saying it was my daughter and used her name and said it was her work cell number. Then asked me if I could help her pay a bill because her card wasn't working but she would pay me back. I sent my daughter a text and she did not send me any texts."
From the UK
"Scam caller pretending to be my daughter and asking me to message her on WhatsApp."
"I have almost been caught by this a couple of months ago. I believed it was my daughter and sent money. The bank's robots caught it and saved me."
From Canada
"Left a text saying to call this number asap. Made it sound like it was from my daughter."
"They pretended that they were my daughter and her phone died and I had to transfer some money to her right away using a different email address."
From Spain
"Pretended to be my daughter and asked me to make a transfer of 2,500 Euros."
"I have received an SMS like it's my daughter and she had an accident and I have to get in touch with her at this number."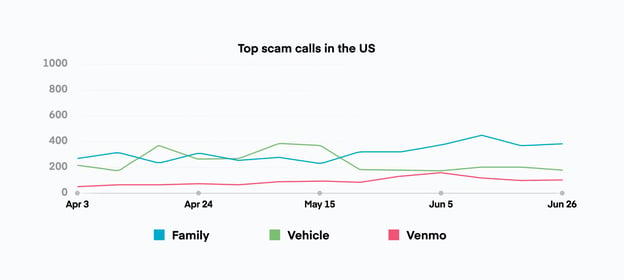 In the US, loved one scams (also called family scams) were the most reported scam call in Q2 2023.
Download the Q2 Global Call Threat Report


A new twist: AI generated voice clones
As if the loved ones scam wasn't bad enough, now there's a new variation of this scam that makes it even more sinister: AI-generated voice clones. Previously, fraudsters simply pretended to be a child or grandchild. The fraudster might start the conversation with "Grandma?" to which the grandparent might reply "Is this (insert grandchild's name here)?" Or, as we saw in the first report above, the "daughter" was sobbing, followed by a phony official who took the phone and continued the conversation.
Although Hiya users have not reported that the loved ones scam call they received was a voice clone, we are seeing news reports from various countries of AI voice clones being used to carry out this type of scam — often very convincingly. Here are a few examples:
See our blog post: The rise of AI voice impersonation scams
Fortunately, there are ways to mitigate the risks posed by AI-powered voice scams. Mobile carriers can protect their subscribers by implementing Hiya Protect on their network. Hiya Protect leverages the industry's only self-learning spam protection system, Adaptive AI, to detect spam and fraud calls in real time.
Adaptive AI turns the tool of AI against scammers to detect threats so subscribers can be warned about suspicious phone calls or have them blocked entirely. It is self-learning and constantly adapting to the latest threats, so as scammers evolve their tactics and try to thwart spam protection systems, Hiya Protect can still detect them.
Learn more about scams and spam worldwide
If you are interested to know the top scams in various countries around the world, check out Hiya's Q2 2023 Global Call Threat Report. It includes insights on spam and fraud rates in 39 countries, and details the top scams in select countries. You can download the report below.