Imitation is the highest form of flattery. If that's true, we at Hiya should be thrilled to see so many apps in the App Store claiming to be Hiya. Somehow it doesn't quite ring true though.
Imposter apps are looking for one thing: money. As such, they "build" fake apps, load them onto the App Store, charge money for them and then sit back and reap the financial benefits until Apple shuts them down. Then, they rinse and repeat with another app.
In Hiya's case, we now have scammers scamming an anti-scam company. Consider the gauntlet thrown.
How can you tell if an app in the app store is an imposter?
Developer name:

Hiya's developer name is Hiya. Simple! It should be recognizable or a name that you can easily look up and verify. Note: the developer name will not always match the app name (for example, Hiya also owns the Mr. Number app), but, with a little research, you should be able to confirm if the developer is indeed legitimate.
Website: In the app store, we link to

Hiya's Web Site

and our

Hiya Caller ID and Block Support page. Imposter apps will have links as well, however, they don't function or will lead to a page that has nothing to do with the app.
Cost: Did you hear from a friend that Hiya is free? They were right! If you go into the App store and all of a sudden, you have to pay for a "free" app, you're looking at an imposter.
Reviews: One of the most important tools at our fingertips. As fake apps are just that – fake, they will not function as they are supposed to. After paying $1.99 for an app and it doesn't work, you can bet reviews will come in and they will not be pleasant. Take a look at the reviews. Sure, Hiya doesn't get 5 star reviews all the time (nobody's perfect…not yet, at least), but, we have a wide range of positive reviews from many users. Imposters will have only a few reviews and they will not be positive.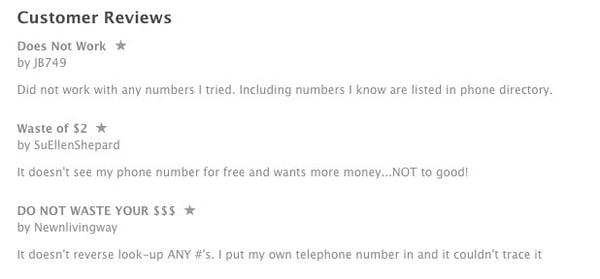 Imposters will receive a few, very bad reviews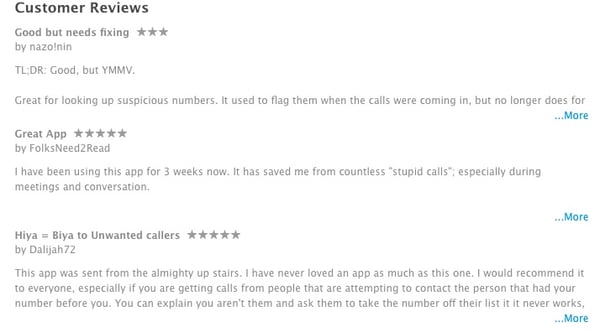 Apps are going to be around for a very long time. As such, it's best to familiarize yourself with known scam tactics to save yourself time and money. Speaking of saving time and money, have you heard of the Hiya app? 😉