Consumers love the convenience of online shopping. It's quick, easy and can be done at any hour of the day or night. But when it comes to large, complicated purchases, such as getting a home mortgage, consumers want to interact with a human, not a website. And while digital channels are great for creating brand awareness and generating new leads, nothing beats a voice call for building rapport, creating trust, and answering questions of consumers shopping for a mortgage.
There is, however, one hurdle you need to overcome when connecting with potential customers: getting them to answer their phones. Even if mortgage shoppers have requested a call-back or filled out an online form, it's unlikely they will answer your call if you're calling from any number that's not already in their address book.
According to Hiya's 2023 State of the Call Report, which surveyed more than 13,000 consumers, 87% of respondents said they believe that unidentified calls are or may be fraudulent. And it's no wonder. Another recent report shows that in the U.S. alone one out of every four incoming calls an individual gets from a non-contact is either a spam (nuisance) or fraud call.
So, how can mortgage professionals improve their ability to connect with customers and prospects? Branded caller ID.
What is branded caller ID?
Branded caller ID is a technology that allows companies to display their company name, phone number, logo, and reason for the call on the recipient's mobile phone. Branded caller ID immediately answers the two biggest questions people have when their phone rings: who is calling me and why?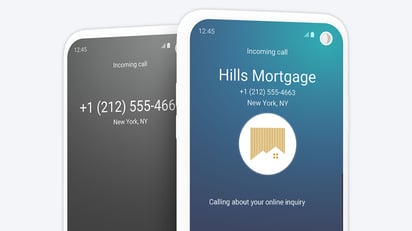 Mobile phone display with and without Hiya's branded caller ID.


Branded caller ID vs. traditional caller ID (CNAM)
If your company currently uses traditional caller ID (CNAM), which is often built into most dialer software, you may be wondering why you would need branded caller ID. CNAM has been around since the 1980s and was designed for landlines. Here are some disadvantages to relying on solely CNAM to let your customers know you are calling:
CNAM often presents the wrong Caller ID name (if it presents anything at all) to the recipient

Display names can only be displayed in uppercase and are limited to 15 characters

CNAM does not support 1-800 numbers as toll-free numbers were designed to handle incoming calls and not outbound calls
With branded caller ID, some of the advantages include:
Control the display of their outbound calls down to the individual number, by business unit, or department - and make changes that reflect in minutes - not months

Depending on the mobile device, display a logo and reason for calling

Personalize the display associated with their outbound calls by individual number

Add identity to outbound calls made from 1-800 numbers
What else can branded caller ID do?
Some branded caller ID providers simply give you a nice-looking display for your customers to see. Hiya's solution, Hiya Connect, goes beyond the branded call display. It offers data and analytic tools that mortgage companies can use to proactively address reputation issues they may be having with their outbound calls, including:
Spam ratios – The percent of outbound calls flagged as spam by the carrier.

Spam labels – How the carrier may have labeled the call: telemarketer, robocaller, fraud likely, etc.

User reports – Comments written by call recipients who report the call as spam.

Blocked calls – How often the recipient or carrier blocks the phone number.
Armed with this data, outbound callers can see how their calls are being perceived by recipients and can change their calling practices to make them more receptive to customers and less likely to violate carriers' spam rules. As a result, they can achieve better answer rates and contact rates and lower spam rates, ultimately enhancing their overall communication strategy.
Get a free call inspection to see what customers see when you call


Put an end to phone number spoofing
In addition to branded caller ID and a robust analytics console, Hiya Connect protects companies from spoofing. That's where fraudsters hijack your phone number to make it appear that you are calling them.
Spoofing can be especially dangerous for mortgage companies because of the amount of personal and financial information required for a mortgage. Prospects might see your company name and phone number on their traditional caller ID and be willing to share information that a fraudster could use to drain the person's bank account.
Hiya Connect has a feature called Secure Call that prevents fraudsters from spoofing your phone numbers. It authenticates calls, so if a bad actor tries to spoof your phone number, the call can be terminated before it can be completed.
Mortgage lender increases contact rate by 52%
One of the largest U.S.-based home mortgage lending companies has experienced impressive results after implementing Hiya Connect. With interest rates on the rise and home inventory decreasing, the company knew the importance of the phone call for creating efficient, personalized experiences for potential borrowers.
Within the first month of adding Hiya Connect, the company experienced these results:
24% increase in answer rate

52% increase in

contact rate
100% decrease in spam labels

By adding branded caller ID, the company increased conversions, improved both customer and loan officer satisfaction, and achieved higher ROI on their marketing spend. As the company's contact center business analyst put it, "Voice is an important method of communication when you're talking about hundreds of thousands of dollars and personal and emotional purchases."
Learn more
Want to learn more about branded caller ID and how it can help your mortgage business? Get a free call inspection to see how you numbers show up on your customer phones.