Hiya is dedicated to providing a better phone experience thanks to the diligent efforts of our talented team! As dedicated as we are in focusing on our clients and users, Hiya is equally invested in our employees too! It's people like HR Generalist, Anna Ruh, who make sure our team is happy by ensuring our benefits, payroll, and recruitment processes run smoothly.
A member of the Hiya team since September 2016, Ruh is passionate about taking care of our employees and making sure they are satisfied. Hiya is dedicated to hiring top talent, and seeing what our employees can accomplish at our mighty tech company! Get to know more about Ruh below: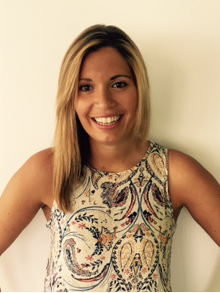 Where is your hometown?
Seattle, WA (I am one of the few that were born and raised here!)
Before working at Hiya, what was the most unusual or interesting job you've ever had?
My first job was selling Kid's Shoes at Nordstrom. I was a certified fit specialist and helped teach shoe tying classes!
What are 3 words to describe Hiya?
Fast-paced, dynamic, rewarding
What aspect of your role do you enjoy the most?
Working in HR, I am exposed to all the different teams and individuals. I've really enjoyed getting to know each one of our employees–they are unique, fun and personable individuals!
What is your favorite thing to do in the wonderful city of Seattle?
I enjoy being near the water. I would start the day with a walk around Green Lake, and then kayak or go boating on Lake Union. And I'd end with Rachel's Ginger beer!
What has been the most important innovation you have witnessed in your lifetime?
Social Networking has changed the way the world communicates with each other. It's made it easier to connect to people that have fallen away because of time or distance or even people you have never met. It is the ultimate connector.
Any favorite line from a movie?
"My mamma always said 'Life was like a box of chocolates; you never know what you're gonna get.'" – Forrest Gump
What four individuals, living or dead, would you like to eat dinner with the most?
Princess Diana, Steve Jobs, Martin Luther King.
Where is the best place you have traveled to and why?
It's hard to top my visit to Santorini – I loved riding the donkey's up the cliff, even thought I thought I was going to fall off!
What is your personal philosophy?
This question is too hard…but it would be something with friends and family!
Want to work with Anna and the Hiya team? Check out our current job openings here!