Canada is experiencing an increase in spam calls, and the most prevalent phone scams in the country are impersonation scams and Amazon scams.
Those are some of the insights from Hiya's recently published Q2 2023 Global Call Threat Report. The report compares rates of both nuisance and fraud calls in 39 countries around the world. Here are some highlights from the Canada section:
Overall, 21.3% of all incoming calls from non-contacts in Canada are unwanted (nuisance or fraud), a 3% increase from last quarter.

Nuisance calls increased from 12% in Q1 to 15% in Q2.

Fraud calls remained the same at 6.3%

In Canada, 15% of calls are nuisance and 6.3% are fraud, for a total spam rate of 21.3%
Fraud calls plague Canadians
Although Canada's overall spam rate is lower than other countries in the Americas, including the United States, Mexico and several South American countries, its fraud rate is several times higher than that of the U.S.
What are the most popular types of fraud calls in Canada? Amazon scams top the list, followed by a variety of impersonation scams.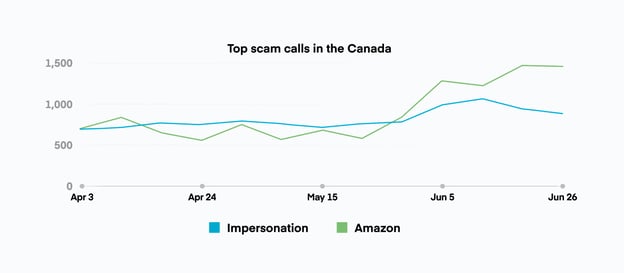 Amazon scams are a perennial favorite in Canada, and Hiya observed a sharp increase in these scams toward the end of Q2. Amazon has dedicated websites in 13 countries, so it's no wonder that these scams are so common worldwide. Last year Amazon scams were the #1 scam in Canada and the UK, and #2 in the US.
Canadians also reported a wide variety of impersonation scams in Q2 – pretending to be banks, business and government. Government impersonation scams are huge in Canada, with imposters impersonating Canada Border Services Agency, Department of Service Canada, and the Chinese Embassy. Also popular in Canada are grandparent scams, where a fraudster calls pretending to be in trouble and in need of immediate financial help. Several other countries also experienced high volumes of "loved ones scams" where the caller pretends to be a son, daughter, grandchild or other relative.
Key findings globally
Globally, key findings from the Q2 2023 Global Call Threat Report include:
Fraud rates increased in 30 of the 39 countries examined in the report.

Chile leads the world with a spam rate of 56.9%.

Spain has the highest spam rate in Europe.

The UK has the highest proportion of fraud calls in Europe.
Download the Q2 2023 Global Call Threat Report
Methodology
This is the third quarter in a row that Hiya has published the Global Call Threat Report, which allows for comparison. Data is based on calls traversing Hiya's voice security network, which includes Samsung Smart Call-enabled devices and Hiya's mobile app.
Hiya defines spam calls as unwanted calls, both nuisance and fraud, from someone not in an individual's local address book. Nuisance calls are not illegal, while fraud calls are specifically meant to steal money or personal information.
You can download the report below: