For years, the Wangiri scam, Japanese for 'one ring and drop' has been preying on unknowing mobile victims, enticing them to call back international numbers, ultimately charging them with premium rates.
The Wangiri or "one-ring" scam originally appeared in the US in 2013. In years to follow, the scam hit a lull in the U.S. and expanded internationally to countries like Ireland, Scotland, and Germany, but just in the first few months of the year, it's made a recent comeback to the U.S. with a vengeance.
Originating from the West African Atlantic Coast, seconds before a victim can pick up the call, the culprit hangs up. In some instances, scammers will leave a message urging the victim to call a number to either receive a so-called raffle prize, or find out about a sick relative. If the victim calls back, they will be connected to an international hotline charging a connection fee, along with significantly high per-minute fees. Unfortunately, the victim doesn't realize they've been scammed, until they see the premium services on their monthly phone bill.
In the first quarter of the new year, Hiya has seen a 98% increase in the Wangiri scam to our collective user base.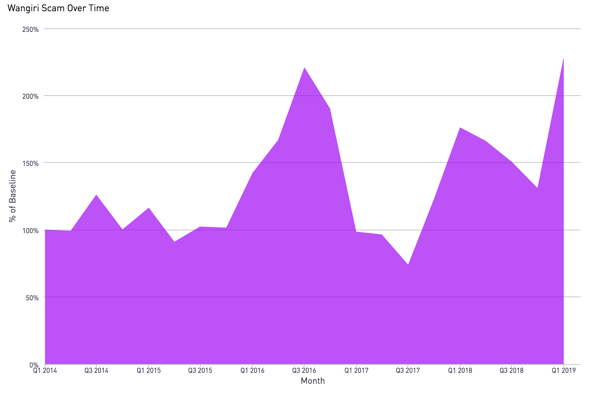 Top 10 Area Codes Affected by the Wangiri Scam:
(206) Seattle, WA

(801) Salt Lake City, UT

(575) Roswell, New Mexico

(608) Madison, Wisconsin

(205) Birmingham, Alabama

(281) Houston, TX

(309) Macomb, Illinois

(336) Greensboro, North Carolina

(419) Toledo, Ohio

(469) Dallas, Texas
Thanks to our partnership with Samsung, Hiya is able to obtain insights into the spammer space outside the United States, which provides us with unique insights that we can apply to combat internationally based scams for our US-based partners. In the case of the Wangiri scam, we are able to leverage this context to determine where the scam is originating, what platforms they're using to make the calls, and how we need to change our approach in order to effectively predict the scam.
Once we saw this activity, we introduced two new models into our spam prediction product that help identify Wangiri calls for our users. In addition to these two models, we're also altering how we look at predictive features for this scam and will be rolling out additional protection from the Wangiri scam to our users in the near future.