A look back at 2016 and the Hiya Top Ten
What a year it has been! Though Hiya has only been around for eight months, I dare say, we made a significant impact this year. Upon reviewing our Top Ten List for 2016, I think you'll agree too. So let's count down Hiya's accomplishments to ring in the new year! (To learn more about each accomplishment, click on its respective image.)
#10. Before there was Hiya, there was Whitepages Caller ID. On February 21, 2016, Whitepages Caller ID announced its partnership with Samsung. Whitepages Caller ID data would come preloaded on all Samsung Galaxy S7 devices. No app required! I'd be remiss if I didn't mention this sweet deal that pretty much spawned the thought "I think we got something here!"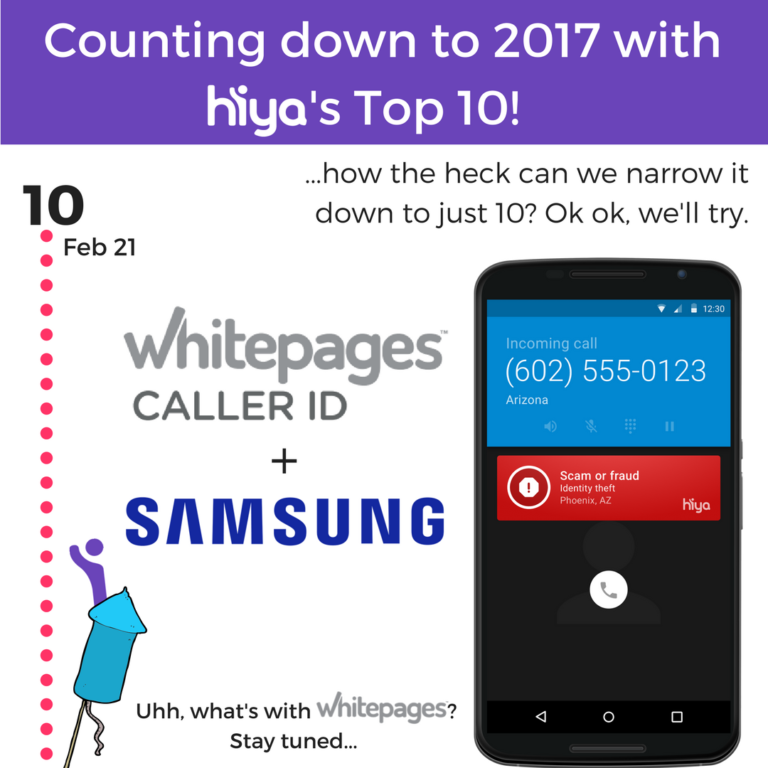 #9. When you got something and you know it, you run with it. That's what we did. On April 27, 2016, Hiya broke out into the world on its own. Fare thee well, Whitepages, and thank you for making this a possibility. And let's give a nice round of applause for those responsible for finding a short, sweet name like Hiya! (Respect, Whitepages Caller ID, respect).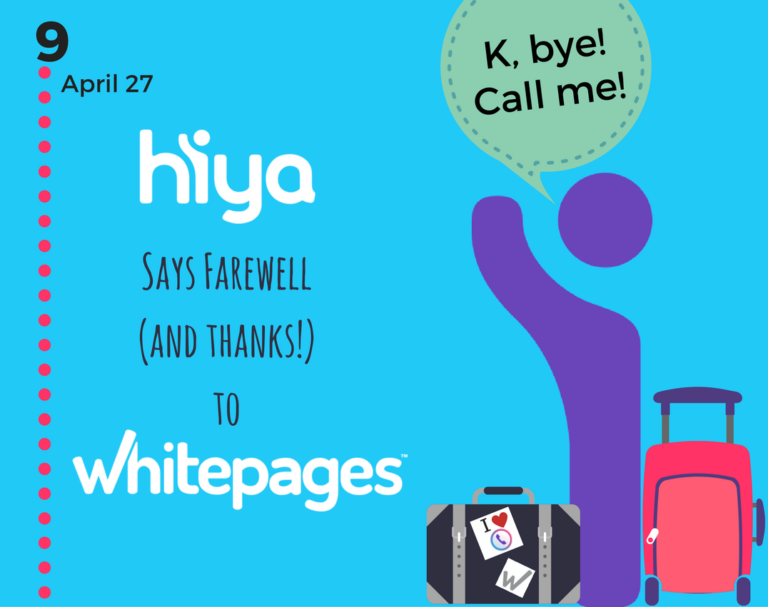 #8. June 23. There I was. On vacation. For whatever reason, I decided to do a quick check-in to my work email. Call it intuition. Call it fate. Call it the will of a dedicated employee. I jolted upright at the sight of "WSJ Column on Robocalls" from none other than Joanna Stern. Five days and a lot of data later, we were featured in The Wall Street Journal on a piece regarding robocalls – and how to fight back. What an incredible feeling!
#7. Who doesn't love a good honey badger reference? Who cares that they peaked 5 years ago? Honey badgers are still B.A. Hiya's very own Honey Badger is Hiya Cloud. Why? Because when carriers use Hiya Cloud, call protection takes place on the network, not the device. Whether you're iOS or Android. Whether you're Samsung, iPhone, or Nokia, you're protected. Hiya Cloud don't care.
#6. For too long, iPhone users weren't getting the highest call protection with their phone. Android always allowed developers to access the call platform so they could identify and block calls, but not Apple. That is, until iOS10. So, on September 13, first out of the gates was Hiya, ready and eager to bring a safe calling experience to a wider audience – for free! *Drops mic*
#5. After pulling dual-CEO duty for five months, Alex Algard left his position as CEO of Whitepages to focus solely on being Hiya's CEO. It's worth noting, he still carries the titles "Founder" and "Board Member" for both companies because #ambition.
#4. On July 21, FCC Chairman Tom Wheeler sent letters to nine major U.S. carriers demanding they develop a free tool for consumers to control unwanted robocalls *cough, we do that, cough*. A short two months later, who should be touring our Seattle headquarters but Chairman Wheeler himself, along with Commissioner Pai and Commissioner Clyburn! Consider us starstruck!
#3. Hiya strives on our data and the algorithms that live and breath through it. We think the trends are fascinating: what scams are taking off? which ones are going away? where do these scammers appear to be calling from? Big stuff!! Since we're not selfish, we decided to share the findings with our Robocall Radar Report.
#2. FierceWireless is one of the leading experts that provides analysis of trends shaping wireless communications. As such, we were eager to submit "Hiya Cloud" for recognition in the Fierce Innovation Awards: Telecom Edition. We were thrilled to have been selected as the winner for the Network and Device Security category!
#1. Just two weeks following our Fierce Innovation win, we busted out the champagne again with our win for Consumer Trust in the 2016 International Meffy's Awards! MEF is a greatly influential trade organization so getting "the nod" from them, well, it was a great feeling indeed!
Whew, that Hiya Top Ten list is one for the history books! What will 2017 bring? Partnerships, more awesome memes, world domination?!??! Only time will tell…