You've already been the target of a "Neighbor Scam" call — you just might not know it. This clever little trick has been on the rise since early 2016. Scammers using this method of fraud will copy (AKA "spoof") the first 5 or 6 digits of your phone number when they call you, in the hopes that you will answer since it appears you are receiving a local call. Once they have you on the line, they'll begin the same old tired attempts to trick you out of your hard earned dollars.
Recently, there has been a shift in this strategy. Instead of spoofing the first 6 digits of a phone number, scammers are only spoofing the area code. This change in behavior suggests that anti-spam providers like Hiya are effectively predicting neighbor scam calls. In response to effective anti-spam solutions, the scammers are attempting to continue the scam by switching to a less targeted strategy, in the hopes that by generalizing their approach, they can keep the scam viable. Unfortunately, the spammers are right — predicting if a call is a Neighbor Scam with 3 digits instead of 6 is much harder — but your friends at Hiya are up for the challenge.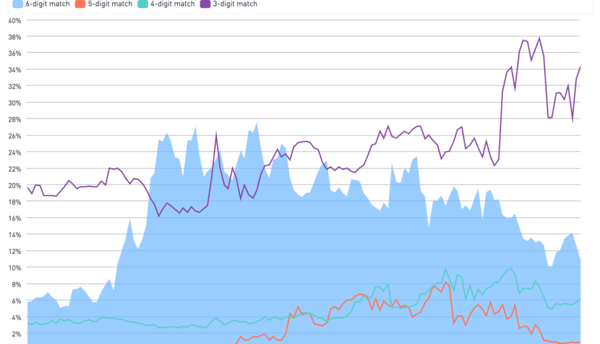 Since the beginning of the year, we have mined our data to create aggregations that can be used to identify area code based neighbor scams, and have used these data to implement a model targeted at detecting and identifying these calls. One of the many really cool details is that this model is intelligent enough to recognize if the number in question belongs to a business and will make a determination using that information, so we don't accidentally flag your Doctor's office as spam.
You'll also notice that in March there is a decline in neighbor spoofing. This coincides with the FTC Crackdown on NetDotSolutions, a notorious dialing platform that facilitated billions of robocalls used to generate leads for sales. This particular group was linked to a major takedown in 2017, where Aaron Michael Jones was the ring leader, the judgment on this case was 2.7 million. This decline is great news, it highlights that the FTC is making an impact, but it also appears that the number of neighbor calls is already starting to rebound, so there is still lots of work to do.
While we continue to work tirelessly on comprehensive solutions, here are some tips to protect yourself if you find yourself on the phone with someone suspicious:
If a caller demands immediate payment for services or debt collection that you are not aware of, do not share any personal or financial information and hang up immediately.
If an offer sounds too go to be true (e.g. free vacation, interest rate adjustments, refinancing debts) it probably is. Go with your gut and hang up.
If you have been targeted by, or are a victim of, the Neighbor Scam, immediately report the number to the

FCC

and on your Hiya app.